We thought the expression 'double drilled' was an engineering term. But when when we found out that it was the title of a gay porn film, we realised that it has a whole different meaning… 
In scene one, Rocco Berlin is bundled into a car by two young thugs, Jeff Black and Meko, who, take him to derelict building and spit roast him, taking turns to fuck his mouth and his tight hole.
Next, Jaden Idol is in a disused factory when two horny young security guards, Florian Hagen and Tommy Erick, catch him. They decide his punishment should be to suck their cocks, but not content with that, Florian fucks Jaden's tight arse too! 18-year-old trainee mechanic Jesco in the repairs garage where he works when in walks Mika Poika and Rocco Berlin, a couple of bad boy scallies, intent on causing trouble.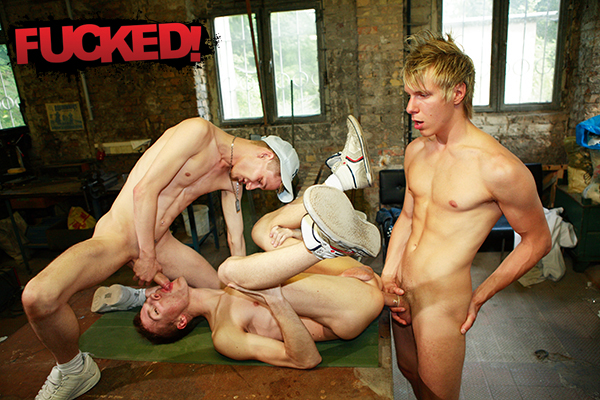 They begin pushing Jesco around, spitting on him and then force him down on his knees making him suck their cocks. Next the bullies put Jesco on his back on a work bench and take turns fucking his arse, before he really does get 'double drilled' as Mika and Rocco force both their cocks in Jesco's hole at the same time!
Mika Poika features in the next scene too, this time with Michael Finn. The lads get turned on being watched as they're having sex, and luckily for them young Benny Braun gets off watching guys fuck, so it's a three-way made in heaven!
In the next scene young Leo Roesch is shocked to walk in on Marco Parelli and Mike Staford lying on the bed together, wanking their cocks. However, his mates soon convince him that it's cool and all three end up sucking each other's cocks, and Mike even gets fucked!
That Mika Poika can't get enough of double drilling and he's back in the final scene with another buddy of his, the young, sexy Zaho Sebastian Mann… And if you think his name's a mouthful, just wait 'til you see the size of Zaho's penis!
His cock's not just a mouthful – it's bloody enormous! Young Andy O'Neill can vouch for that as he gets his arse fucked good and proper by both Mika and Zaho!
• Available from Prowler, Expectations, White Tiger and all good DVD stockists, and at www.ProwlerDVD.com.