Director and porn star Ashley Ryder is back with his fourth film for Bulldog XXX, and this time the star of the show isn't a man, it's a machine, a fuck machine to be precise. In Drilled, Ashley challenges some of his horny mates to see how far they can go with it, and his mates do not disappoint!
Trendy young muscle pup JP Dubois is the first of Ashley's mates to try out his new toy and when he arrives at Ashley's apartment/lair, he's confronted by a selection of giant blue dildos and the fuck machine.
Never one to pass on a sexy arse-stretching challenge, JP is left to loosen himself up and take as much as the mains-operated machine can give him. He starts slowly, opening up his hole with a knobbled dildo, and then curiosity takes over and he jumps up, turns around and lets his arse get owned by the machine, as it pumps him hard with the thickest dildo ever created!
Power bottom Dean Monroe and insatiable top Bruno Fox are up next and with the thick dick Bruno's sporting together with the fuck machine's huge dildos, Dean's hungry hole is in heaven! After some severe throat fucking and arse slapping, Dean's about ready to take on anything, so in full control of the machine, Bruno slows down and speeds up the thrust, while Dean moans like a bitch as he devours Bruno's thick shaft, getting fed dick from both ends!
Ashley needs more fit fuckers to have a go on his machine, so he texts blond stud Jonny Kingdom who just so happens to be with young muscle man Kayden Gray. They both rock up to Ashley's apartment and as they sit down, they're face to face with the thickest dildo they've ever seen, and it's on the end of the fuck machine!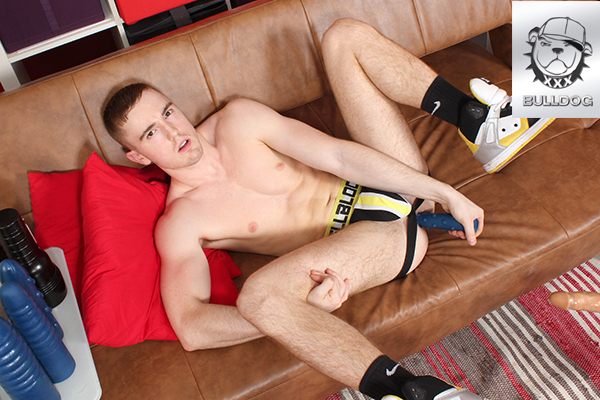 They strip naked and Jonny pushes Kayden's head down onto his long shaft. Kayden then goes to town on Jonny's smooth hole, fucking him hard into the sofa. But that's not the end there as Jonny wants Kayden to feel what he's feeling and so he positions the machine to fuck his mate as he in turn is getting fucked! This is a daisy chain like you've never seen before and definitely one not to miss!
There's time for one more man to give the machine a go, and hairy hunk Dolan is that man! Arriving at Ashley's he grabs the nearest thick dildo and squats right on it, pushing the dildo all the way in and all the way out, leaving his hole more than ready for a drilling by our new favourite toy!
• Available to buy at www.eurocremestore.com or watch high quality streaming at www.bulldogpit.com