Explosive is quintessentially Raging Stallion and what the studio does best; a no nonsense, in your face, all-sex scorcher that doesn't pretend to be anything other than hardcore gay porn!
Watch as four of the hottest power bottoms – Latino stud Angelo Marconi, sex hound Jessie Colter, muscled and inked Derek Parker and hot young muscle, Marc Dylan – take on the wrath of three masterful tops. Director, Bruno Bond, knew exactly what he was doing when he enlisted the talents of his top guys, hirsute Adam Champ, Italian stallion Fabio Stallone and the massively hung Alexander Garrett.
Musclebound jock Marc Dylan takes on furry muscle man Adam Champ in scene one and they tear off each other's clothes revealing Adam's hairy and harnessed chest, and Marc's baby smooth muscled torso.
Marc knows what he wants and dives straight in to his master's crotch, wrapping his lips around Adam's pulsating cock. Adam focuses all of his attention on Marc's erect nipples before spitting onto his plaything's hole, readying it for the assault he's about to unleash.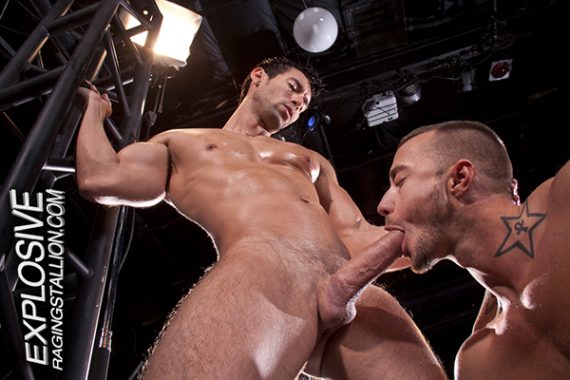 Up next, Alexander Garrett's looking hot in a flannel shirt and cowboy hat, as does hot gym bunny Jessie Colter in his biker gear. But the clothes don't stay on for long and Jessie's soon giving Alexander's hefty cock the attention it deserves.
It's no secret that Jessie's one of the loudest, most vocal moaners around, and he doesn't hold back when Alexander launches a full on round of hard piston fuck thrusts. Derek Parker takes on Adam Champ in scene three and takes everything that his hirsute, rump-ruining master throws at him.
He doesn't appear to care about breathing as Adam tea-bags him with his pendulous bull balls – the perfect natural gag. But he manages to beg Adam to fuck his arse.
Angelo Marconi and Fabio Stallone bring up the rear and although Angelo's the bottom, he's of the 'power' variety and takes charge of macho hunk Fabio Stallone, stripping him to reveal the big man's broad pecs and strong, clean-shaven torso.
Dropping to his knees, he devours Fabio's weighty, truly fat hunk of Italian meat, and gives his top man a wet and sloppy deep-throating before getting slammed hard in his big round behind by Fabio's curved monster meat!
• Available in all good adult DVD shops and online at www.SimplyGayDVD.com