Lucas Entertainment invite us to watch ten of their hottest studs fuck… Who knew we'd enjoy being voyeurs so much?
Scene one and gorgeous, tattooed hunk Adam Killian invites us into his bedroom and says, "Why don't you come in. I've got something to show you."
Trent Diesel, a sexy, blond jock is waiting inside, and once they've ripped each other's shirts off, he asks us, "Do you wanna see his big hard cock?"
Trent unzips Adam, and his hefty, 8-inch cock springs out, and as Trent sucks, Adam looks into the camera to tell us how good it feels. They fall onto the bed and each other before Adam asks us if we want to watch them fuck. 'Oh yeah', we think.
And as if Adam has read our mind he proceeds to rim Trent's round butt and then fucks the hell out of him.
Up next it's baby-faced Brady Penn and sexy Jason Crew. "Is he sexy, or what?'" Jason asks us as he plays with Brady's round bubble butt and fingers his puckered pink hole.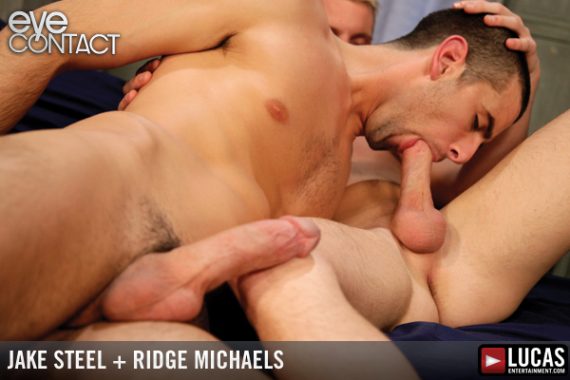 As he does this, Brady swallows his massive 10-inch cock. Jason then look into the camera and with a devilish grin says, "You wanna watch me fuck him, don't you".
And that's exactly what he does next, with Brady crying out and staring into the camera, as all of Jason's 10 hard inches pump his arse. Scene three and all-American party boys Jake Steel and Ridge Michaels dive into each other on the bed.
It doesn't take long before they're naked and Jake looks at us and says, "Are you going to watch that big dick in my ass?" And, with our cock in our hand ready to blow, we watch Jake getting fucked on all fours.
Sexy-as-fuck Alessio Romero and Dirk Caber star in scene four, and it's Alessio's furry butt that gets fucked for our pleasure. And then smooth muscle-studs Parker London and Brenden Cage go for it hell-for-leather, both taking turns to fuck each other, in the final installment…
Another ball-draining fuck-fest from the New York powerhouse!
• Available from www.LucasEntertainment.com
To watch other Lucas Entertain Films on QXMEN.TV now, CLICK HERE!