Following in the footsteps of the hugely successful Folsom Filth, Titan Media's Folsom Leather pushes the boundaries of hardcore man-on-man action.
Packed with jaw-dropping leather and fetish play, the action's set deep in a dungeon below Folsom Street – or is it deep in someone's twisted imagination?
Scene one and Sexy Rick van Sant is asleep in bed and as he begins to dream, we see him wandering around a dilapidated warehouse. Through a hole in a wall, he spies the awesome sight of François Sagat, strung up and swinging on a metal bar with a ball gag in his mouth.
Hairy muscle stud Brendan Davies is eating and spanking François' meaty arse before he puts him on his back on a bench. Rick holds his legs up by his boots and plunges his cock into François mercilessly while Brendan stuffs his face with his cock.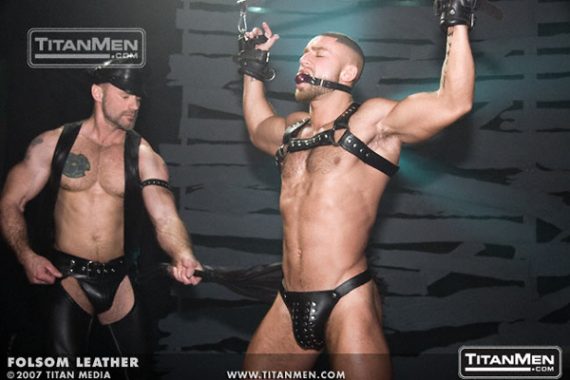 Then it's Rick's turn to get impaled at both ends with Brendan's cock in his arse and François' dick deep down his throat.
In scene two, muscle daddies Arpad Miklos and Butch Grand fuck Alex Baresi hard. With Alex kneeling on a bench, Butch eats his hairy muscular arse while Arpad fucks his mouth.
Once his hole is wet with spit, Arpad drives his massive cock deep into Alex, and then with Alex and Butch lying next to each other, he fucks the two muscle studs one at a time while they tweak each other's stiff nipples.
Once both guys have cum, Arpad hoses them down with his own fountain of sperm… Outstanding! Hot stud David Korben and beefy blond Adam Faust are up next and after yanking on each other's cum-swollen balls, Adam smacks David's arse to show him who's boss.
Then, grabbing him by his shoulders, Adam drives his cock deep into David's butt, fucking him mercilessly. Tober Brandt, Rick van Sant and Tyler Saint deliver a cum-drenched three-way in the final scene ending what is one of the hottest fetish movies we've watched this year!
• Available from Clonezone