A must have for all lovers of big cocks – and let's face it, who doesn't – Fuck It's Huge 2 pits nine extra hung tops against eight über bottoms. Yes, one lucky lad takes on two tops in one scene that spit-roast fans will love. Sit back and enjoy watching ten scorching hot scenes packed full of massive cocks fucking tight young arses.
With ten amazing scenes to chose from we couldn't possibly tell you what happened in each, so we'll focus on a few of our favourites – which is quite tricky as they're all horny as hell.
First up though is Fred Faurtin fucking Marco di Lucca with his meaty eight and a half incher. He's rock hard from the word go and Marco's eagerly sucking his cock. It's a POV movie so Fred is filming some of the action and you can tell he's fixated with Marco's twitching hole. An experienced top fucker, Fred makes sure that he teases his bottom boy's hole so that by the time he's ready to shove his cock in, the lad will be crying out to get fucked. He gently massages Marco's hole with his fingers and tongue, rubbers up and slides his straining cock in. The guys are fucking on a Cupid's Couch which means Fred can bounce Marco up and down on his huge tool and by the time Fred's finished Marco has been well and truly fucked.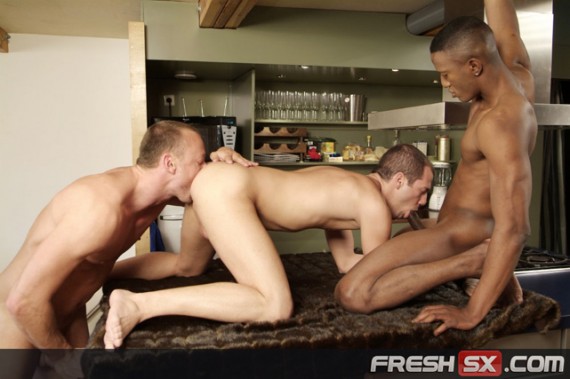 Blond guy Jordan Fox and his nine inch cock has always been one we've lusted after and he's paired with Marco di Lucca in another hot scene. Once again, he works Marco's hole open with his fingers and plenty of spit. Jordan gives his bottom boy's arse a good spanking too, something we've watched him do in most of his films, and which always gets him rock hard. Jordan's one hell of a rough fucker and seems to enjoy pounding his bottom boy without mercy and by the look on Marco's face this was one fuck he wouldn't forget in a hurry!
The other eight scenes are all equally as horny with some of the biggest cocks we've seen in a long time. You'll just have to buy the DVD yourself to see just how horny it is… Outstanding!
---
Available to buy at www.FreshSXstore.com and all good DVD stockists.
To watch other FreshSX Films on QXMEN.TV now, CLICK HERE!
---