UKNakedMen's horny gangsters are back for more uncut cock action in the seedy underbelly of London town. Antonio Garcia is ruling the roost and fucking anything that moves, from horny police officers to Soho go-go boys! Adrian Toledo shows off with a strip and smoke performance, while Josh Charters ploughs Kayden Gray in a cock throbbing slam-dunk fuck. And Fabio Lopez escapes to France, taking with him his own plaything, the delicious Delta Kobra!
---
Copper, Matt Brookes is determined to get his man, but as he tries to arrest Antonio Garcia, years of frustration and desire take over and the two men lunge at each other, giving up their arses to eager tongues, their balls to hungry lips and their cocks to deep, tight throats.
Up next is smoking hot Spaniard Adrian Toledo who strips down and smokes a cigarette in a total exhibitionist alfresco solo. Josh Charters and Kayden Gray are up next and Josh's thick, uncut cock pounds Kayden's peachy arse hard, each thrust making Kayden's cock bounce off his tight abs.
Fabio Lopez has escaped the rat race and now has a new life in a new country (and a new little plaything of his own called Delta Kobra). Fabio's smooth, tight hole just can't get enough of Delta's thick uncut cock, and he loves the bulk of Delta's hairy, muscled torso slamming up against his smooth body as he thrusts his cock in deeper and faster.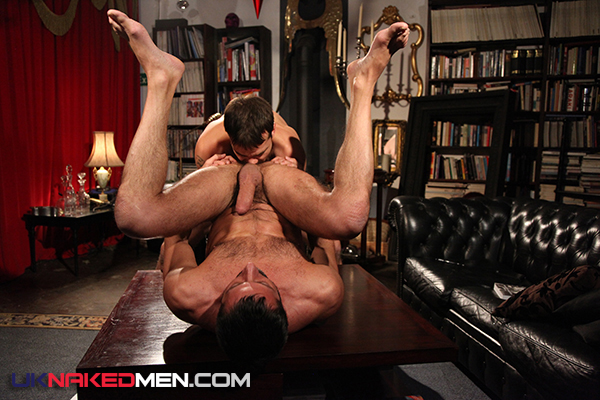 Fabio is a happy man (and who can blame him!) This is the life he always wanted. Antonio Garcia is back in the final scene and he's cruising the back alleys of Soho and wondering what the four names he has discovered in the safe could mean. He finds a crumpled flyer for a sleazy strip club with one of the names on it and ventures inside.
There he finds Max Duran, an eager, overly friendly go-go boy with a big uncut cock and a hot hole. Max surrenders himself to Antonio and deep throats his huge Italian sausage before sliding down the full length of his greasy pole.
• Available from Prowler, Expectations, White Tiger and all good DVD stockists, and at www.ProwlerDVD.com.