Three of Raging Stallion's top directors – Chris Ward, Steve Cruz and Bruno Bond – pit four insatiable tops against four greedy bottoms and deliver some of their best work ever. The action in this DVD is so hot; you'll be hitting the rewind button so you can watch these Raging Stallion men get 'Fucked Hard' again and again!
Bearded cutie Dominic Sol is up first and his eyes light up when he sees sexy-as-hell daddy, Bruno Knight – he knows his bubble butt's gonna get a good pummelling from expert fucker Bruno! Dominic drops to his knees to unzip the leather pouch of Bruno's jock strap. It's bursting at the seams, packed full of the hairy-chested hunk's throbbing cock and balls, which spring out and go straight down the eager bottom's throat. Dominic's moans bounce off the walls as Bruno slam-fucks his arse, and then shoots a cascade of thick spunk across his bottom boy's torso. At this point, Dominic can't hold back and spurts a load over his stomach, before eating Bruno's jizz, and then shooting a second time onto the floor!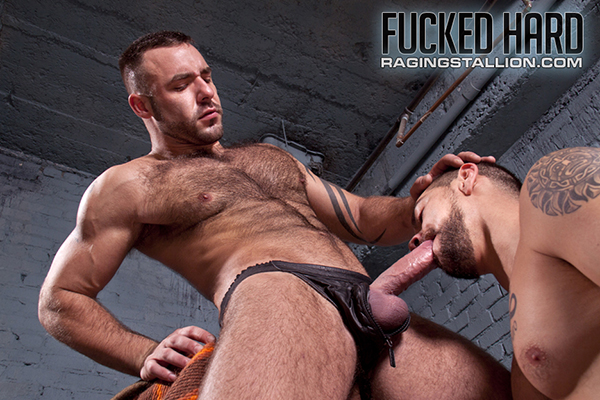 Jesse Santana has grown into a fine young man and he gets hotter with every film. His balls are heavy with spunk and he needs to unload. So it's lucky for him he's got Heath Jordan to play with. They take turns blowing each other before moving to a canvas-covered worktable, which is perfect for Jesse to drill Heath's hairy bear hole.
Hot, bearded, Latino Leo Forte and ripped, tattooed white boy Derek Parker look thrilled to be doing a scene together and you can tell these guys are really into each other as Derek drills Leo deep and hard up against the metal railings of a staircase.
Toned Ty Roderick has a gun tattoo which points to his crotch, and for buff Charlie Harding, it's an invitation to a shooting match. He checks out Ty like he was buying livestock – grabbing Ty's huge cock, squeezing his pecs, pinching his nipples and slapping his face. Ty doesn't hold back, pulls his cock out and feeds it to Charlie, who guzzles it down. But Charlie wants arse and flips Ty onto his back, fucking his hole with intense all-the-way-in, all-the-way-out strokes until both men blow their loads.
• Available in all good adult DVD shops and online at www.SimplyGayDVD.com