While hunky boss man Trojan Rock jets off to find some sunshine, gorgeous hunk Spencer Reed has been entrusted with the keys to his luxury London apartment.
Oh Trojan, what were you thinking? And true to form, the first thing horn dog Spencer says is, "Fuck this work shit. I'm going to have myself a sex party!"
Alphamale's Full Control gives you unprecidented access to Spencer's orgy!
We find Spencer reclining on Trojan's sofa waiting for his guests to arrive. First through the door is musclebound bottom boy Dominic Pacifico, and in no time at all Spencer has him on his knees, with his trousers down, stretching his hairy butt cheeks wide apart to get full view of Dominic's puckered hole.
Next to arrive is Brazilian stud Billy Baval and horny bottom Dominic's eyes light up as Billy's another top guy who can work over his insatiable butt! Billy gets the night's proceedings off to a flying start and slams his big thick Brazilian cock deep inside Dominic's furry bubble butt.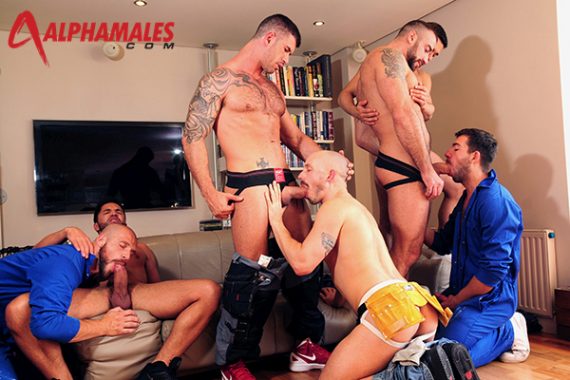 The sight of the two guys fucking gets Spencer all fired up and he takes his turn and pounds Dominic's already lubed hole with his massive American cock. As Dominic and Billy rest on the sofa, four more of the Toolbox crew – Damian Boss, Aitor Crash, Valentin Alsina and Adam Killian – join the party.
They've come straight from work and are still in their overalls, and if you have a thing for hunks in works overalls you're going shoot your load at the sight of them! But their overalls are only left on for a matter of seconds before these guys are bollock naked and getting down to some seriously horny butt munching and face fucking.
Relative newbie Damian has an impressive slab of meat between his legs, and together with sexy Spanish sleaze dog Aitor and resident bottom boy Dominic, the guys make up a formidable threesome of quintessential Alphamales. Sexy Valentin shows he can be a good bottom boy when he sucks both Billy and Adam's dicks one after the other.
And when Adam takes a liking for his arse, he raises him, eats out his pink hole and then stretches it open with his thumbs just wide enough to accommodate that famously thick dick of his – all the while Billy keeps him quiet with his dick in his throat… You've got to hand it to Spencer. That guy sure can throw an awesome sex party!
• Available on DVD from Prowler, Clonezone, Nice'n'Naughty, or download in HD from EurocremeStore.com.