When one cock just isn't enough, some greedy bottoms need to get gang fucked. Stud Fuckerz have cherry picked five outstanding gang fuck scenes, each one guaranteed to make you blow your load! 
In scene one, horny Bruno Bond takes Brandon Lewis's dick and stuffs it right up his hairy hole. He rides his top reverse cowboy style, bouncing up and down on his rock hard cock. Grabbing him from behind, Brandon pulls Bruno back and starts kissing him and jerking him off.
Sean Stavos and Morgan Black enter the scene but instead of an interruption, they join in kissing and caressing. Soon its no man left behind. It's a gang-bang on Bruno's arse! Brandon takes him from the front offering up his meaty cock, and Sean and Morgan take turns from behind.
Bruno is in heaven with every hole filled to the max, each man take his turn blowing loads, then they turn Bruno right side up to shoot off his cum geyser in the wild outdoors!
Marytin Mazza and three guys star in the next scene before Samuel Colt, Arpad Miklos and Brenn Wyson gang-bang and double fuck Alessio Romero.
Samuel Colt hits a popular bar while waiting for his bike to be repaired. He spots Alessio Romero and Arpad Miklos playing pool as barkeep Brenn Wyson reports that the loser's agreed to bottom for a gangbang.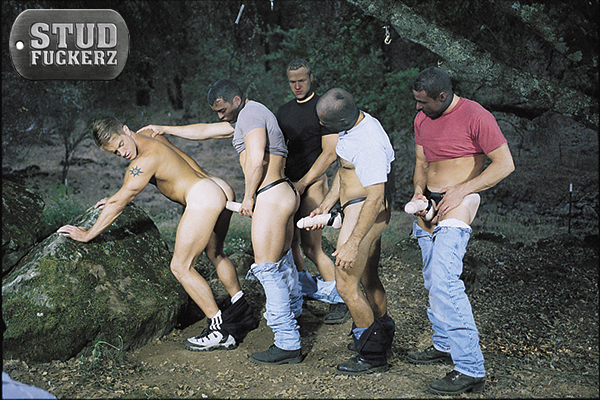 Alessio loses and Arpad, Samuel and Brenn waste no time holding the wiry jock to the deal. They corner Alessio like a pig in a pole and drown him in dicks and spit. They brutalize him with taunts, punches and slaps as they jam their cocks into his mouth, even two at a time.
Then the unholy trinity each take turns fucking their compliant man whore after prepping his arsehole with a rimming.
Samuel and Brenn double fuck Alessio stretching his sphincter wide as they cram both their cocks inside. Samuel, Arpad and Brenn then finish by showering their quarry with their cum.
Brenn is the first to blast Alessio straight in the face, then Arpad drizzles his spooge all over and Samuel creams him with his load. And only after all that can Alessio jerk himself off to finally bust his nut.
Thugs Kevin Miles, Thom Barron, Sebastian Gronoff and Carlos Morales gang fuck Kevin Williams next, testing his limits as a power bottom with giant dildos and a succession of their own hard cocks, before Martin Mazza's back in the final gang fuck scene.
• Available from Prowler, Expectations, White Tiger and all good DVD stockists, and at www.ProwlerDVD.com.