When one cock isn't enough and these horny lads beg for more, they end up with more than they bargained for! In the latest DVD from one of our favourite new studios, the lads don't just get fucked – they get gang-fucked! Get ready for six scenes, featuring twenty-two sexy young bad boys, gang fucking and spit-roasting their mates! Yes, these lads are getting gang banged and they won't be walking properly for days!
Scene one and five young lads are playing a game of strip poker with a Madame (who we think is actually a mister). Luckily, he/she leaves the room and the lads, who are already half undressed, strip off their clothes and get down to some serious fucking on top of the poker table…
Not bad, but the action (and the lads) gets hotter in the next scene which features two Brits and two German lads getting it on after drinking a suspicious concoction! Sexy fucker Kai Cruz is up next and he's joined by three equally sexy young scallies, German we think, and they're on the roof of a derelict building, all fucking like there's no tomorrow.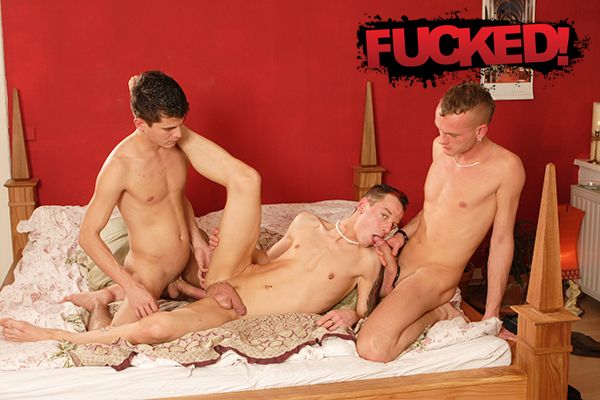 Now, we don't know where the guys at Fucked! find their locations, but they deserve a medal because every one of them is horny as hell! In the next scene four hot guys – one of them we recognise as hung top Jordan Fox – are sat round in a derelict factory.
They're playing a game along the lines of Spin the Bottle, where the winner (or loser, whichever way you look at it) gets gang fucked by his mates. Next up three young skanks repay the kindness of a cute lad who's offered to help them with their broken down car, by gang banging him over the bonnet – charming!
And bringing up the rear, the final scene features three hotties getting down to some serious fucking, this time in the comfort of a bedroom… Being a film by the studio Fucked! though, they still manage to make it look dirty!
• Available from Prowler, Expectations, White Tiger and all good DVD stockists.