With a cast of horny lads who look like they've all spent time in a young offenders institute, and a script punctuated with lines like "I'm gonna smash your fucking back doors in, you dirty cunt" and "You love it don't you, you fucking Northern monkey" and "I'm going to fuck you right up your dirt track," you instinctively know you're watching a porn film by Triga Films.
Gangland Cock: Extra Fuckin' Swag, Triga's take on gang warfare, has both of the above in spades, indeed the film's cast is probably the horniest to date.
Take David Mogsy. He's the sort of bloke you could take home to meet your parents and he'd easily win your mother over with his good looks and cheeky smile, and your dad would probably think he was a decent chap too.
Of course, they'd have absolutely no idea he was the boss of a ruthless local gang called the Mogsy's, and if anyone stepped out of line he'd make sure they got what's coming to them – namely his big meaty cock up their arse!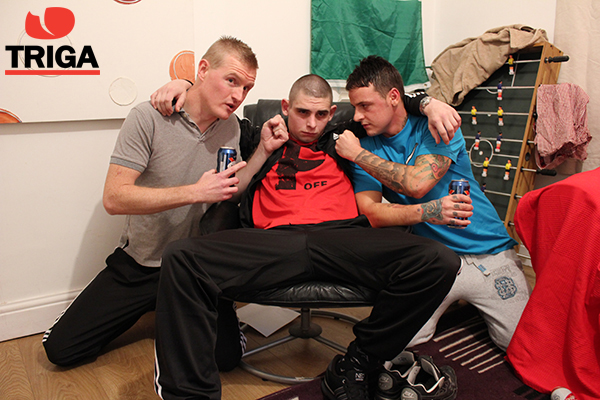 When a rival gang tries to offload a consignment of stolen trainers on the Mogsys, David Mogsy smells a rat and forces the young delivery guy to suck his cock before brutally fucking his arse. Sending the lad back to his boss, he says, "Let this be a fucking lesson to you.
No one fucks with me you cunt!" Back at the rival gang's house, boss man Danny's not happy that the Mogsys have got one over one them and fucked one of his lads too. "Nobody fucks me over," he says in his broad Manchester accent and, gesturing towards his packet, he orders two of his lads to suck his cock.
This leads to the first of the film's two horny three-ways. The second is in a storage container and stars Danny, one of his lads and a mate of David Mogsy with a massive cock, who threatens to stir things up if they don't suck him off.
David Mogsy's back again teaching one of the rival gang members a lesson next (with his cock, not his fists) for messing with his gang, before Danny and three of his horny gang members wrap up Gangland Cock: Extra Fuckin' Swag with a blinding four-way suck and fuck session, leaving us wondering if it's too late to become a member of our local neighbourhood gang… It looks like so much fun!
• Available on DVD or download at www.trigafilms.com