BRITAIN'S sexiest East End boozer is back… and it's hotter than ever!
Dean Monroe has gone and Assistant Manager Drew Brody has been left holding the fort. In the opening scene he meets with the night's staff, Issac Jones and new boy Lucas Davidson, as it's down to him to boost morale for the re-launch party.
Young twink Lucas is excited to be working at the famous gay nightspot and his boundless enthusiasm has caught the eye of Drew and bartender Issac.
Soon all three are naked and a hot-as-hell three-way ensues with Lucas not only taking Issac's sizable cock in his mouth and arse, but also Drew's humungous 12-inch donkey dick in both holes too!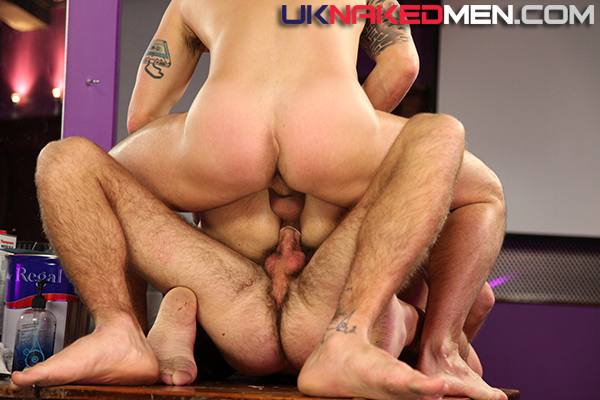 The evening's entertainment, special guest star Jessy Ares, arrives at the bar ahead of the night's show and he's not impressed with the venue. Luckily Italian stallion Fabio Stallone is on hand to smooth things over and he takes one for the team from Jessy before giving him one back.
The toilets in The Flying Dutchman see their fair share of action too and we come across Anthony Clarke on his knees on two occasions, the first time giving hottie Paul Walker his first gay blow job ever, and the second getting well and truly skull fucked by the insanely hung Lucio Saints.
Not content with toilet sex, we next find Anthony in the middle of the bar, and this time it's not his mouth that's getting pounded by Lucio Saint's monster shlong, it's his arse!
It's the night of the relaunch party and Jessy Ares' show is aired in the next scene. Although it starts like Saturday night TV viewing with the sexy porn star belting out one of his club tracks, it soon becomes an all-together different XXX-rated show when he pulls Dirk Berger up on stage and fucks the living daylights out of him!
The morning after the party Justin's come in early to sort out the drinks delivery. He wasn't, however, banking on getting sorted out by hot delivery guy Tony Thorn.
And in the final scene, Lucas Davidson proves he's no one-trick pony when, once again, he gets fucked by two giant cocks, this time in a sphincter-splitting three-way with Valentin Alsina and Woody Fox!
• Available from Prowler, Expectations, White Tiger and all good DVD stockists, and at www.ProwlerDVD.com.