Gay Bar or Bust tells the story of Dean Monroe who's got just three weeks to turn a run-down East End pub into the coolest gay bar in town. 
Hot tattooed muscle guy Harley Everett is the kind of eye candy every successful gay bar needs and in scene one he goes all out to impress Dean, at his interview for Bar Manager. All we can say is if Harley ever applied for a job at QXMEN and did one of us over the desk, like he does Dean on the bar, he'd get the position no questions asked!
Finding a doorman who isn't a complete homophobic psycho is tough, but Dean thinks he's finally found a guy he can rely on (and who's a sexy fucker, too) in Jake Lewis. And we see Jake practice his 'people skills' on young Rowen Bailey who turns up looking for work and leaves an hour later not sure if he got a job, but very sure he got well and truly nailed!
Harley's first day is spent getting the bar into shape, while Dean auditions guys for the bar's entertainment. Stripper, Lincoln Gates, is left butt naked, halfway through his audition and feeling a bit lost when Dean is called away on an urgent phone call. Feeling sorry for the lad, Harley decides to show him some affection.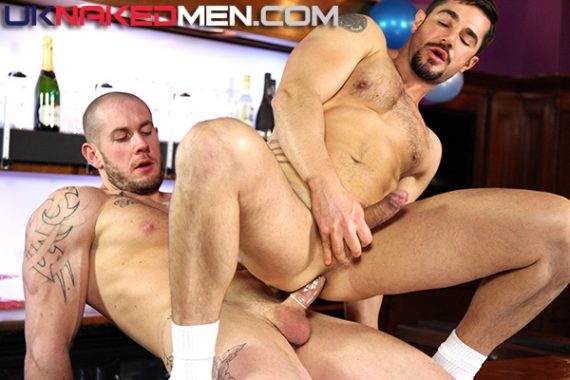 The only thing is Harley's idea of affection is a good hard fuck, but it's exactly what Lincoln wants and he takes everything Harley can give, riding the bar manager's thick uncut cock and greedily eating his spunk. When Dean leaves early for a licensing meeting, hot skinhead electrician Tony Axel stays behind to finish off the bar's new lighting rig.
Meanwhile, dark and swarthy Lucio Saints, the bar's DJ, is putting the final touches to his set for the opening night. He's totally lost in his music until he notices Tony, a hot guy whose body language shows that he's begging to be fucked. How could Lucio resist?
And he does Tony in the arse, good and proper, in the deserted bar. We discover that Dean has a secret investor in the bar, namely the impressively hung Drew Brody. He's got Dean over a barrel – and that's just how Dean likes it! There's a bit of staff bonding when barmen Issac Jones and Tate Ryder hook up with handyman Fraser Jacs.
When we say staff bonding, what we mean is spit roasting, but it works and these three have certainly bonded by the end of it!
• Available from Prowler, Expectations, White Tiger and all good DVD stockists.