It takes an 'Elite Class' of man from around the globe to triumph in the corporate world. But with the massive highs and huge financial rewards come huge responsibilities and untold stress… and all that the tension needs to be released somehow.
This is something that the guys at New York porn powerhouse Lucas Entertainment know all about and in Elite Class, the tenth installment of the studio's Gentlemen series, our fascination of the slick look and polished feel, the masculine smell and taste of an executive man wearing a tailored suit is explored and we become a fly on the boardroom wall watching these commanding professionals powerfully and aggressively fuck with a purpose.
In the opening scene, Marco Rubi fucks his boss Donato Reyes in a private suite. He's serving as Donato's hot new executive, and is to travel with him, share his meals with him, take care of all of his professional needs, and most of all, when the two businessmen are traveling and Donato is away from his wife, Marco is to take care of Donato's personal and sexual needs as well.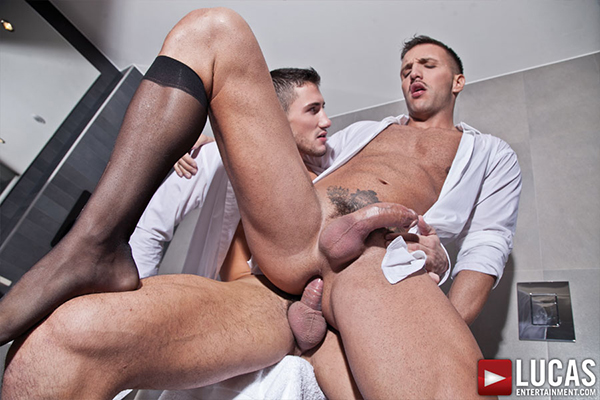 When the two men arrive in Donato's private suite, they take a detour in the bathroom where they test not only the water pressure, but the blood pressure that's building up in their throbbing cocks too! Marco falls to his knees – where he belongs – and swallows his boss' cock, but there's a submissive side that Donato enjoys exploring, so he also sucks some cock.
And Donato even takes his assistant's cock up his arse too… talk about flipping the reins of power! In scene two, Valentino Medici unbuttons Adriano Carrasco's suit trousers and services the hot Cuban's 10-inch uncut cock to completion, before Adam Killian, Fernando Torres, and Valentino Medici turn their business lunch into a hot-and-sweaty threesome!
And when their work is done for the day, Edji Da Silva teaches his intern Fabio Lopez how to bottom in scene four, leaving corporate powerhouse by day, and unstoppable power-top by night, Goran to show Marco Rubi how business is really done and what it means to obey authority.
• Watch now at www.LucasEntertainment.com or buy the download or DVD at LucasStore.com.