Everyone loves a gentleman. Luckily for us, this Menatplay feature is about the suited and booted style as much as the boner-inducing eight scenes of action…
What can only be described as a classic 'cumpilation' of some of the Menatplay site's best online material, the Gentlemen DVD starts with Daniel calling over attentive waiter Marco Blaze who goes down on the men like a true professional, and it's not long before he's arched over the lounge table, taking Daniel's tongue and teasing fingers from behind and Pedro's rock hard cock fully into his mouth from the front.
The men want to switch it up, and Marco soon turns into a moaning, hungry mass of energy when Pedro enters him. The action moves to on top of another table, where Marco – desperate for deeper and bigger – gets the double penetration of his life. It only gets better boys; in Harry's Appraisal new boy Harry Louis gets a lot more than he expected from boss Christian Alexander, and gives it to him, over the office furniture, just as good.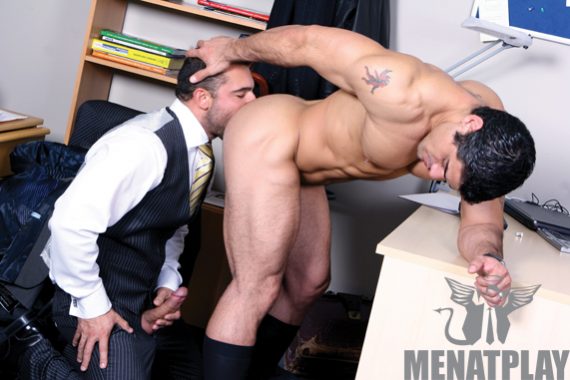 Spank, featuring Carlos Caballero and Glenn Santoro, sees the cocky employee is soon spanked and out of his suit, before he's on his back, watching the big guy's cum erupt above him. Damien Crosse is examined by smart, no-nonsense Dr.
Neil Stevens next, and a board room orgy between built, suited and booted business men Danny Starr, Bruno Torres, Roberto, Toby Park and Christian Alexander follows in The Boss, with an intimate and wildly intense twosome between Kurt Rogers and Jed Wilcox after that in The Tailor.
Silver fox Christian Alexander makes another appearance – this time with Patrik in The Barber, where he has a quick shave and then gets fucked out of his senses on any surface that can sustain his muscular frame around the barbershop. Finally, in Surrender, Daniel Marvin and Pedro Andreas's late stay in the office soon leads from the usual banter to a very unexpected and invigorating fuck session.
---
Available from www.menatplay.com
---