Golden Gate is NakedSword's first-ever Original Production and an exploration of the sex lives of gay men living in San Francisco. This 2-disc set is jam-packed with over five hours of hardcore content and stars some of the hottest names in the gay porn industry today.
Episode 1, entitled Dialing for Dollars, stars blonde hottie Cameron Marshall, a successful white collar worker who's no good in the sack, and Latino dreamboat Topher Dimaggio, the opposite to Cameron who's using his great body and good looks to sell sex. But when Cameron books Topher's services the guys hit it off and the sex is amazing. We love the site of Topher's stiff cock pounding away at Cameron's pert bubble butt!
Episode 2 'The Island Of Lost Toys' sees stunning Raging Stallion Exclusive D.O. top horny Brit redhead Kennedy Carter and give his pink puckered hole the workout of his life. D.O.'s amazing cock would be more than enough for most guys to handle but he also fucks Kennedy's trembling hole with an over-sized dildo. Always the professional, young Kennedy takes everything that's thrown at him.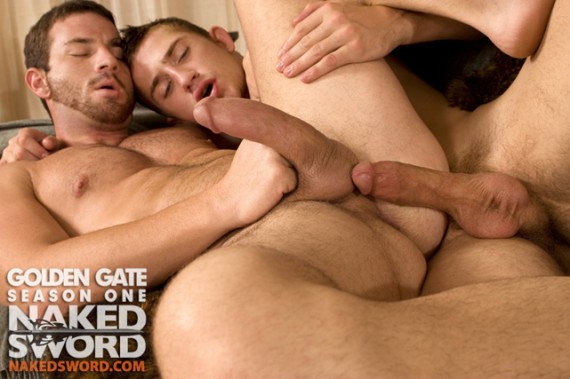 Episode 3 'Self Service' sees a chance encounter at a gas station between old friends Rusty Stevens and Dayton O'Connor and, after a hot oral session in a sleazy gas station bathroom, they go back to Adam's flat where the two fuck and suck each other's brains out in an explosive flip-flop session that will leave you breathless.
In episode 4 'The Beach House', Jeremy Bilding decides to spice up his sex life and books street hooker Christian Wilde as a surprise birthday present for his long time lover, Trent Locke. And what a great present the hooker turns out to be!
Episode 5, 'Rock Show' treats us to a scorching hot three-way where top guys Donny Wright and Brad Star take turns fucking hot youngster Chris Porter. The blockbuster cast and awesome sex in this, the first Golden Gate DVD, has got our juices flowing and wanting more and we can't wait to watch the next instalment.
---
Available in all good adult DVD shops and online at simplygaydvd.com
---