If you have a penchant for hirsute guys then Hairy Boys 18 is going to be right up your street. You'll bust a nut at five hand-picked classic scenes from Menace, Savage, Tailpipes, GRUNTS: Brothers in Arms and Score.
Scene one stars Bruno Bond and Pistol Pete and is taken from Menace. Pete unleashes Bruno's hard cock and wastes no time sucking his engorged member and then Bruno returns the favour showing off his oral talent as he takes Pete's hot, Latin cock deep in his wet mouth. Pete sits on Bruno's face as Bruno's hot tongue darts in and out of Pete's hot, hairy manhole.
Bruno grabs Pete's arse cheeks, opening the hole even further to insert his tongue deep inside and then pounds his buddy, pulling out slowly to see Pete's gaping hole open and ready before driving his cock in deeper and deeper.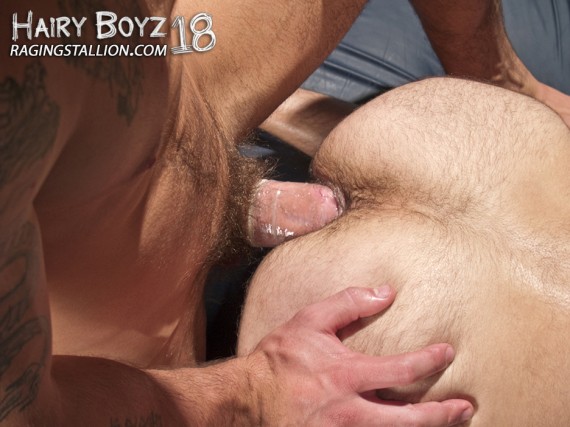 Next up it's Roman Ragazzi and Brodie Sinclair in a scene from Savage and Brodie decides to assert his dominance in a round of naked wrestling, ending with Roman on his knees, ready for a dick up his arse. Roman's back in a hot scene from Tailpipes, this time paired with Remy Delaine.
The movie's set in a motor garage and as the temperature rises, the clothes come off. Roman can't help himself and he stuffs Remy's huge uncut horse cock into his mouth and goes for the balls and quicker than you can say "oil change" Remy is fucking Roman's hairy arse.
GRUNTS: Brothers in Arms serves up the next scene and features Steve Cruz and Orlando Toro. If brothers doing it is your fantasy, then this scene will become your all-time favourite, as Steve and Orlando look like twins!
The final scene is a hot three-way starring Iman Lee, Rod Stevens and Leslie Mann and the three guys end up spewing out the most spunk we've ever seen in one gay porn scene. Proof if ever it were needed that they were hot for each other!
• Available from www.RagingStallion.com