As the camera pans round the room, the opening scene of Falcon Studios' Hungover looks like any normal morning at the offices of QXMEN Magazine. Naked men are lying face down on the floor, either asleep or unconscious. Others, in the same state of unconsciousness, are draped over furniture and there's even a few naked guys lying on top of other naked guys!
Empty beer cans and spirit bottles are strewn everywhere, and as a couple of shifty looking guys wake up, grab their clothes and hurriedly head out of the door, it's clear that what we're looking at is the morning after a wild orgy!
Landon Conrad wakes everyone up and asks, "What the fuck happened here last night?" A naked and bleary-eyed Dylan Hauser sits up on the sofa and says, "All I remember is doing shots, and the rest is a blur… My arse is sore." Then Landon spots a pile of Polaroids, throws them onto the coffee table in front of the guys and says, "I think this will explain".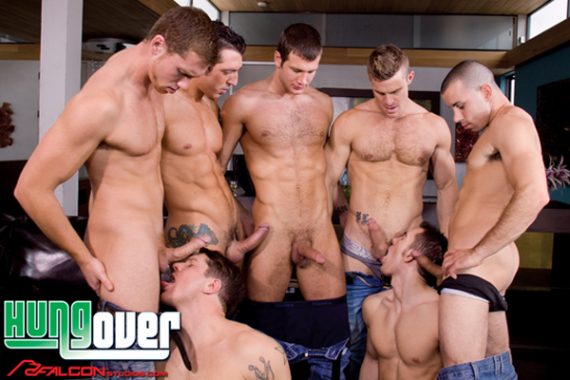 Rewind to the night before, and we find out that the guys have got together to give their buddy Chris Tyler a proper send off before he goes back into the army.
After several shots, an inebriated Jimmy Durano starts boasting that he's got the biggest cock out of all of them and pulls it out of his jeans to show them. And that's all it takes for this seemingly innocent boys night in to turn into a full on 7-man orgy. Even the pizza delivery guy, Parker London, joins in, but he soon heads off to another room with Landon Conrad, who plows his arse fast and furiously until both guys shoot their loads.
In another corner of the apartment, Dylan Hauser skewers himself onto Spencer Fox's thick cock and rides him hard before getting pounded deep bent over a barstool. Connor Maguire is the lucky filling in a hot three-way 'manwich' with Chris Tyler's knob down his throat and Jimmy Durano's pole in his hole!
In the final scene the seven guys regroup for another round of wild hedonistic group sex, and Chris gets the send-off he deserves when his buddies salute him with shots of cum!
• Available from Prowler, Expectations, White Tiger and all good DVD stockists.