The Head Hunters are back with a new staff of sexy executive recruiters looking for guys qualified to fill all of their openings.
Scene one and Samuel O'Toole needs a raise, but his arsehole boss Rod Daily won't give him more money until he proves a bit of office gossip that's going around. Daily's heard that O'Toole has a massive cock and he wants to see it. So the stud proudly gets out his huge tool and, with no hesitation, Daily gobbles it down before stripping out of his suit and revealing his amazing muscled body and that perfect round bubble-butt of his. Daily orders his employee to fuck him and O'Toole obliges by plowing his cock-hungry boss good and hard.
Next up, gorgeous Kyle King and Luke Marcum realise they've got the office to themselves. The suit and ties come off and Marcum gets down to business on King's 8-incher. The two get one hell of a surprise though when sexy redhead Blu Kennedy rushes in to get his laptop, but unfazed, Kennedy pulls out his giant dick and joins the action.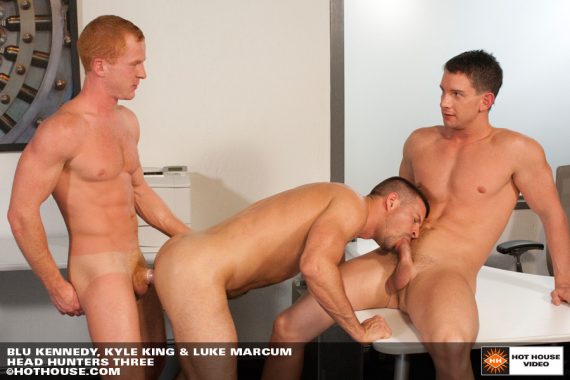 Marcum finds himself gorging on two massive cocks before he and Kennedy spit-roast King. And Kennedy gets it good when he's spit-roasted by King and Marcum… Outstanding!
Supervisor Spencer Reed calls AJ Irons into his office to give him a warning that if he doesn't show him what he's got, he's going to be fired! Irons unzips his flies to show his boss his fat Latin cock. Reed takes Irons' huge dick in his mouth before getting his own humongous thick cock serviced. But Reed, a hulking mound of muscle, overpowers Irons and throws him down on the desk to fuck him hard.
Sexy-as-fuck skinhead, Brandon Bangs reports to Head Hunters looking for work and recruiter, another skinhead, Patrick Rouge has a few questions of his own, namely is Bangs willing to go the extra mile to get the right job? He says yes so Rouge gets on his knees to check Bangs' qualifications – with his mouth. His expert cock sucking arouses Bangs who wastes no time plowing Rouge over his desk. In this case, Bangs nailed the interview – and the interviewer.
---
Available from Prowler, Expectations, White Tiger and all good DVD stockists.
---