The first instalment of a two-part feature, Hole 1 is a voyuer's dream as every second of the action is filmed by closed-circuit cameras and relayed back to an unseen master of this run-down, subterranean institution, Josh West, who strokes his monster cock as he waits for the intense and unforgiving sex to erupt. 
And he doesn't have to wait long when a camera zooms in on Donnie Dean and Landon Conrad. Donnie's black leather jock strap frames his arse invitingly and Landon parts his cheeks with his tongue and a finger. Very soon they're fucking like animals.
Next, we zoom in on Angel Rock who's getting blown by Tyler Wolf. He may be Angel by name but he's certainly no angel in any other sense of the word as he sucks, probes and licks Tyler's hungry hole until it's dripping with spit and arse juice, before plunging his swollen cock deep inside.
Wearing only a threadbare jock strap, Adam Killian is sitting on the floor in the corner of a padded cell, wanking his cock as he watches himself in black and white on a closed-circuit TV monitor.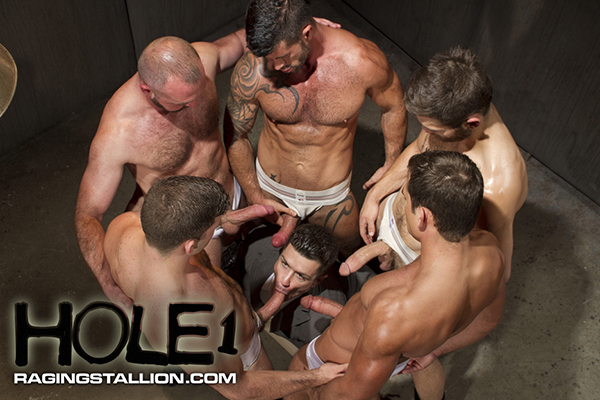 JR Bronson is on all fours on a bed in the same cell. He's blindfolded and wrapped in clingfilm from his neck to his ankles. Adam crawls over on his knees and chews through the clingfilm to sink his tongue deep into JR's hole. Then, yanking off his blindfold, Adam fuck's JR's dripping hole, and rides him deep using the waistband of his jock strap as reins.
Jimmy Fanz is on his knees, sucking Tommy Defendi's thick veiny cock, balls-deep. Tommy grabs him by the throat and slides his cock deep into his arse, and tossing him around, fucks him like a rag doll.
After being kidnapped off the street in broad daylight and then tossed into a dark cell and force fed gay porn, a bewildered Trenton Ducati has become mesmerized by men having wild uninhibited sex.
With his libido reaching breaking point, he must have a taste of what he's been forced to watch on his monitor and he's orally gang banged by Adam Killian, Tommy Defendi, Angel Rock, Josh West and Luke Milan in the final scene… Hmm, now where exactly is the Hole? We'd like to check in for a long weekend…
• Available in all good adult DVD shops and online at www.SimplyGayDVD.com.