When the Lucas Men are Hooking Up they don't go for second best; they make sure they bag themselves the hottest guys on the planet!
In what must be one of his last roles, furry, muscle-bear Arpad Miklos stars with slim and slender blond bottom Justin Cruise. Justin's a submissive guy who totally gets off on pleasuring an older man and he uses his mouth on Arpad's huge uncut cock until the top guy is rock hard.
He then bends over the bed and Arpad uses the dildo modelled on his own meat on Justin's boy butt before giving him what he's really after, the real thing! Fernando Torres and Mathew Mason are a couple of grease-monkey mechanics and, although the garage is a risky workplace hook up, both guys are willing to take the chance.
As soon as the overalls are stripped off, Mathew goes down on Fernando's cock, before hopping on top of the Latino and gives him a ride he won't forget in a hurry! The minute Edji Da Silva sees Tyson Tyler he knows he has to have him.
The pair duck into a warehouse and immediately Tyson starts working on the Arab's cock, getting him rock hard. Edji eats out Tyler's arse before getting him on his back and fucking him good and hard! Michael Lucas has been eyeing up Donato Reyes for a while, and when he moves in for the kill Donato doesn't hesitate!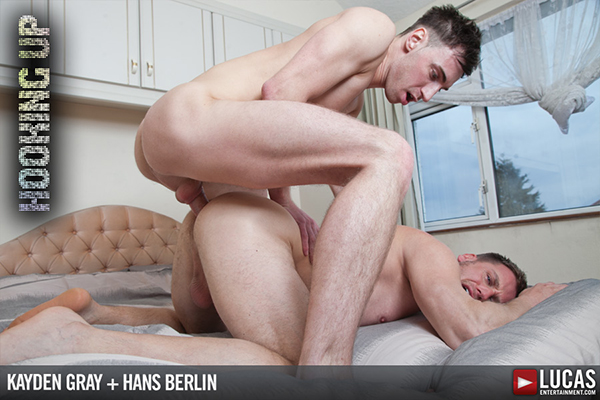 Michael is a notorious total top, and Donato pulls out all the stops and works on the Russian's 10-inch uncut dick with his mouth and tongue like a pro before rolling over and taking every single inch into his accommodating arse! Kayden Gray has a thing for older guys, especially when they have blond hair and blue eyes. Which makes Hans Berlin the perfect match for him, as not only is he blond and blue eyed, he's also got a big, muscular body and a hard, uncut cock that's ready for action at all times.
Hans invites Kayden over to his place for a hook up and they start out in the kitchen, stripping off their clothes and exchange blowjobs. Hans loves Kayden's tight, young body and massive cock, and in a surprise move, Kayden dominates his fantasy daddy in the bedroom and fucks him with that big piece of meat of his. Not to be outdone, they flip fuck so Hans can prove to Kayden that he can be just as rough when fucking arse.
• Watch now at www.lucasentertainment.com or buy the download or DVD at www.LucasStore.com.