Award-winning director Steve Cruz and his cast of all-American hunks deliver a mouth-watering serving of Grade-A cock in the first instalment of the two-part Hung Americans.
After licking every inch of his body, Trenton Ducati grabs Shawn Wolfe his head and pushes him to his knees. Sucking Trenton's tool, Shawn jacks his own cock furiously before Trenton pushes him into a chair and returns the oral favour. A rickety table provides the platform for a fiery fuck that culminates in two enormous cum shots.
Wearing only crusty undies and a wife beater, Logan Stevens jacks off while his laundry dries. Roommate Marcus Isaacs sits in their trailler's only chair, looking tough with a pack of smokes rolled up in his t-shirt sleeve.
Marcus jumps on the bed and sucks Logan's cock and then Logan runs his tongue over Marcus' balls giving him a slurping rim job that leaves Marcus desparate to feel Logan's hard cock deep inside him. A robust fuck ends with Logan cumming in Marcus' mouth and Marcus cumming on his very hairy thighs.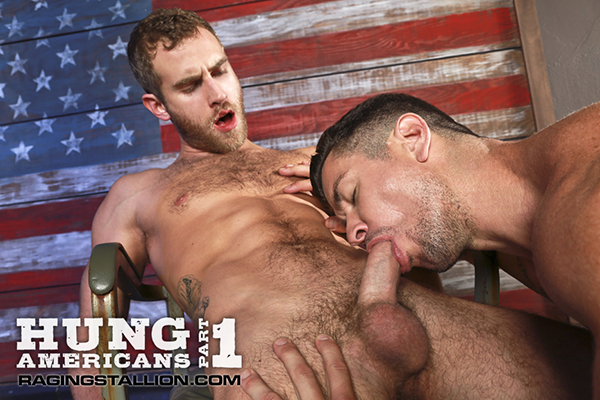 Ray Han has the smooth, slim torso of a swimmer and a sinuous way of curving his body to fit Tommy Defendi's. He eagerly grabs Tommy's cock and then chews his way down the pleasure trail of hair, takes a deep breath, and inhales it, punishing the back of his throat with his efforts to suck every inch.
Soon Ray is sitting on Tommy's lap working his arse at the speed of a pneumatic drill on Tommy's ultra-fat cock until they cum in a cross fire, with Tommy's thick load shooting across the room. Adam Killian and Tyler Wolf are up next and as Tyler's gives his full attention to Adam's thick cock, Adam's eyes widen and roll back in ecstasy.
Adam is a male arse specialist and the work of his lips, tongue and fingers on Tyler's hole make Tyler squirm and moan before he surrenders his amazing butt to Adam for a robust fuck. Adam's multiple-angle entries ensure that Tyler's hole gets a maximum workout, and when Tyler starts to cum, Adam catches the spunk in the palm of his hand and feeds it to him, with a bonus serving on his own hefty load.
• Available from Prowler, Expectations, White Tiger and all good DVD stockists, and at www.ProwlerDVD.com.