TitanMen exclusives Jessy Ares, Dario Beck, Philippe Ferro and Hunter Marx lead a cast of outstanding hunks in what must be one of our favourite TitanMen movies of 2011… 
Scene one, and we're greeted by the awesome sight of TitanMen exclusive Jessy Ares with Adam Killian and Shay Michaels. The studs are splashing about in a swimming pool and showing off their underwater talents, sucking each other's cocks and eating Adam's meaty arse. Jessy dumps his load in the pool before his buddies knock one out on the lawn.
Next, Jessy rams hairy Shay while he slurps on Adam's monster cock. "Stretch me out… Spit on me!" shouts verbal bottom Shay, and Adam takes control of his beefy butt and ploughs him doggie style. The guys turn the heat up and Adam pins the grunting Shay to the ground, fucking him deep and hard, and Jessy gets behind him and slides inside for a hot fuck chain. Wow! An outstanding first scene and we wonder how the next scene can top this one.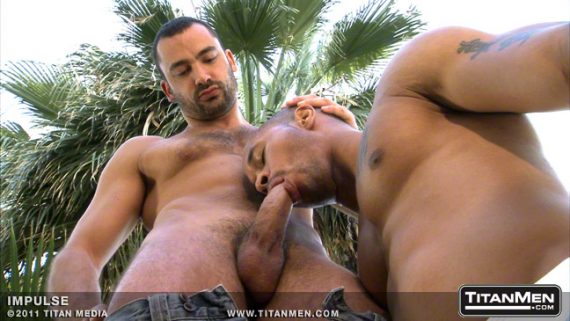 Outdoor workout buds, TitanMen exclusive Philippe Ferro and Lawson Kane are working out in the sunshine and then drop their dumbbells and their shorts. Philippe is the bottom guy in this scene and he takes Lawson's meaty tool deep in his butt like only a Titan stud can.
Another TitanMen exclusive Hunter Marx joins Dario Beck for the final scene and once again we're in for a treat. Dario worships Hunter's beautiful boner as Hunter whips it on his face. And then when Hunter does a handstand against the wall, Dario continues to suck the rock-hard alpha hunk while his own meat throbs with excitement. Hunter soon turns Dario around and pushes him up against a wall and tongue-fucks his hairy hole, before the two guys each knock one out and head off into the garden.
We think the movie's over, but Hunter wants more and sits Dario down on his rock hard cock and pounds his hole… Outstanding!
• Available from www.TitanMen.com