Raging Stallion and Falcon Studios have launched their first new DVD line since the two studios merged in 2010 called Guys Like Us. Award-winning veteran Andrew Rosen is at the helm of the new line and the plan is to release up to eight titles a year.
The first is Just For You and Rosen recently said, "I've had a part in launching a new brand many times in the past, and some of my favourite moments in the business have been firsts! Just For You sets the stage for a successful, scorching hot line, and I am committed to continuing with my strong vision for this line, making it the best it can be."
The DVD features the studio's hot new exclusive Ryan Rose, a handsome former college football player and U. S. Marine. We first meet Ryan in scene one, which he shares with his sexy real-life boyfriend Bobby Hart, in which the chemistry is immediately noticible.
Ryan's back later on too for a finger-fucking solo in the bathtub! Compact Angel Rock gives his best performance of his rising career with slim, horny Wolfie Blue in scene two. Wolfie, who has just one need – to get fucked – lets Angel know by flopping on the bed and spreading his legs.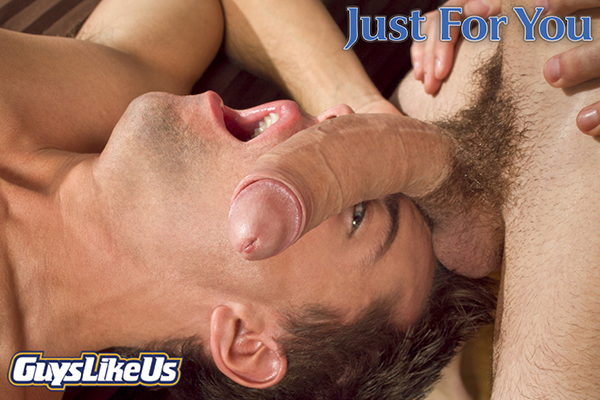 In scene three, youthful Hunter Page's wank fantasy is interrupted by sexy Hayden Richards, his ideal real life shag. Hayden's anxious to get naked and nasty and Hunter's hole is soon living the dream and getting pounded by Hayden's cock.
Scene four is Ryan Rose's finger-licking bathtub solo. Probing his hairless hole with two fingers, he drives them in deep while he wanks his cock with his other hand and then shoots long streams of spunk across his washboard abs.
In the final scene, Jason Goodman gives a bottoming performance that should be a model for every muscle jock when he takes charge and uses Jack Patrick's cock as if it were a living dildo! He fucks himself in every direction, in every angle and at every speed. He could patent this routine and call it the 'Hole Work Out'!
Andrew Rosen's cast of confident tops and hungry bottoms know exactly how to satisfy, not only their desires but those of their buddy's, and in Just For You they deliver five scorching lessons in how to achieve exactly that.
• Available in all good adult DVD shops and online at www.SimplyGayDVD.com.