Lucas Entertainment is back with Season 02 of its award-winning series that merges the mainstream with edgy adult entertainment. Starring ten of today's hottest porn stars, Kings of New York – Season 02 also has celebrity cameos from Latrice Royale, "Tan Mom" Patricia Krentcil, Reichen Lehmkuhl, Roy Jones, Michael Musto, Geronimo Frias, Jada Valenciaga and Candis Cayne!
Latrice "Mother Fucking" Royale from season four of "RuPaul's Drag Race" introduces an acrobatic performance unlike anything ever seen in the world of hardcore gay porn.
The show's main attraction far outweighs the circus performances, however when Christopher Daniels, one of Lucas Entertainment's favourite gay blond bombshell porn stars, and goateed sex-bomb Dean Monroe appear on stage they prove that sex is always (and always will be) the main attraction!
Christopher is the first to take a cock up his arse and he sits down on Dean's hard-on and bounces while playing with his own dick. They then switch positions, Dean gets on his back, and Christopher grabs him by the ankles and pumps his hole. After a quick visit to a tanning salon Johnny Hazzard and Liam Magnuson head home to clean up.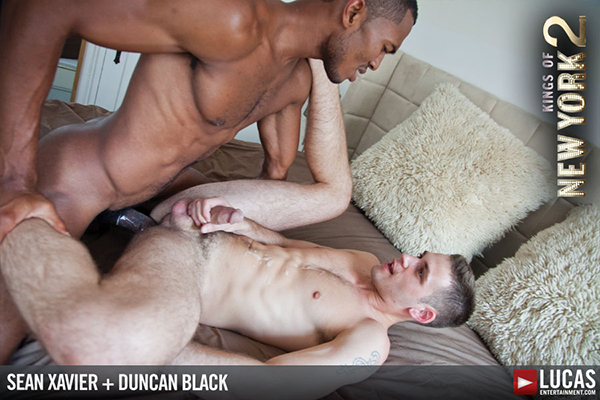 They begin to kiss, and this soon turns into sex! Liam and Johnny suck each other's hard cocks before Johnny gets on his hands and knees for a deep rimming. Liam then invites Johnny to sit on his cock before pounding him hard in the doggy position.
In scene three Jimmy Durano's thick uncut cock tests Angelo Marconi's limits and, after getting it nice and hard by massaging the shaft and foreskin with his lips and tongue, Angelo proves his bottoming credentials by rolling over onto his stomach and letting Jimmy pound and jackhammer his butt without mercy!
This month's cover boy cutie, Jed Athens, and Andrew Stark fire off three explosive cum shots next. They suck each other's cocks before Andrew slips his dick deep inside Jed's arse. In the fifth and final scene, Duncan Black prepares himself to take the monster cock of this month's centrefold, Sean Xavier. The guys' marriage may have come to a bitter end but Duncan still has strong feelings for Sean's massive black cock. So after a final visit to their divorce lawyer, Duncan services Sean's cock one final time.
• Watch now at www.lucasentertainment.com or buy the download or DVD at www.LucasStore.com.