Who doesn't love a hot muscled stud building up a sweat with an even hotter mate of his?
We certainly all do here at QXMEN and we were spoilt for choice with Alphamalemedia's four scenes featuring eight stunning guys with bulging biceps, chiselled abs, meaty arses and massive cocks.
There's no messing about with silly scripts and we're straight into the action with two strapping hunks, Alex Monetti and a guy only credited as Max.
We don't actually care that we don't know what his surname is as he's a sexy bugger. They start the scene in their underwear but it soon comes off and the guys get straight down to action.
After they suck each other's cocks Max tongues Alex's meaty arse, rubbers up and the pounds away.
As he fucks Alex, Max slaps his arse cheeks making them glow pink. We have to admit that while watching muscle stud Max fucking his buddy, we shot our load… This is a very rare occurrence at such an early stage of a movie and a credit to the guys at Alphamalemedia! Jack Hood and Matthew Ross are up next and they look like a couple of Russian gymnasts.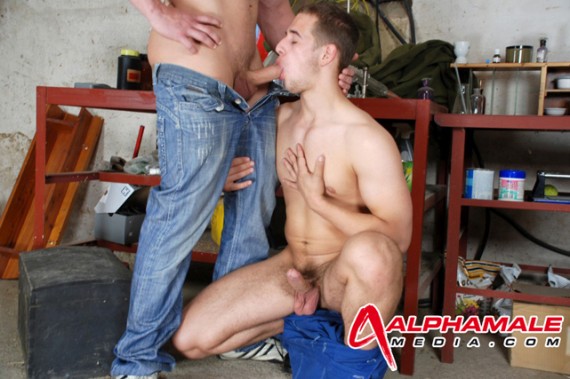 They're in what looks like a disused lock-up and they're soon out of their clothes and sucking each other's cocks.
Zack takes the top role and pounds Matthew's meaty, muscled arse and as we watched these two, it took all of our self control not to cum again! Ennio Guardi and Thor Rawboys are next and their scene setting is much more refined as they're on a bed with crisp white sheets.
The sex they have is dirty though and Ennio screws the fuck out of his little bottom boy Thor. As we reached the final scene with Denis Reed and Eric Miller our dick was straining and ready to blow another load.
And when we caught sight of blond Denis and his mate, we knew that we wouldn't have to wait long.
Once again Alphamalemedia have excelled in their porn star pairing and these two not only look great together, but their on-screen chemistry shows that they obviously fancied each other and couldn't wait to have sex.
And wow, what great sex they have! Although both guys are hung, Denis undoubtedly has the larger shlong, and as we watched him power-fuck Eric's meaty arse, we could wait no longer and blew our load for the second time… Note to self:  Next time I'm in a club, I must take home a Muscle Stud.
• Available to buy at www.eurocreme.com or watch high quality streaming at www.eurocreme.tv