Hustle meets muscle when award-winning director Steve Cruz assembles an all-star cast with ripped physiques and amazing assets to work each other out in the Falcon Studios gym. We must make it clear though that the term 'working out' means something completely different in this gym when these studs take a break from bodybuilding to satisfy each other.
Ryan Rose is working out and his trainer, Trenton Ducati, is getting more and more turned on watching the sweat trickle down Ryan's ripped muscles. Out of the blue, Ryan sticks his tongue out and Trenton sucks it and pulls his shorts down exposing his perfect butt cheeks.
The guys exchange blowjobs, before Trenton fucks Ryan, whose hole is already lubed with sweat, on his hands and knees. When Angel Rock offers to spot Donnie Dean, he takes every opportunity to ogle and touch. It's not long before the horned gym buds' shorts come off and Donnie's deep throating Angel's curved cock like a pro.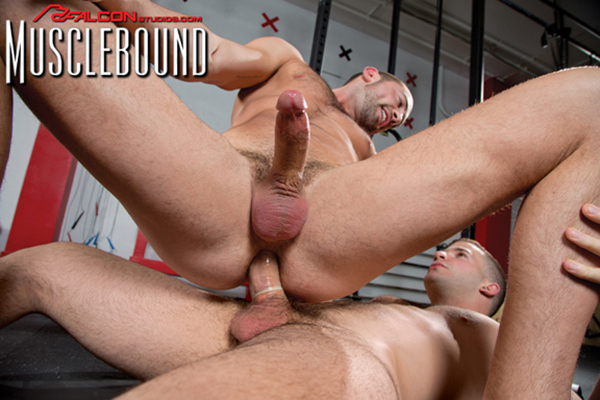 Angel decides to take control and fucks Donnie doggie style, before switching to a sit-fuck, which makes Donnie shoot a stream of cum high in the air. Six foot four Angelo is a formidable tower of muscle. His nine-inch cock is too big for his workout shorts and pokes its head out as he does his crunches, but JR Bronson doesn't mind and holds it while the big guy works out.
As JR's sphincter is about the only muscle he hasn't exercised yet he straddles a bench and enlists the help of Angelo's cock. Spurts of spunk erupt from his cock as Angelo works out JR's hole, before he spews his load out on JR's face and mouth.
Jimmy Durano and Mike Anders are going through their exercise routines, and when Mike bends over a bench, his shorts slip down low on his hips to expose his crack. Jimmy takes a long, lustful look before he moves in to take possession. Jimmy's huge cock and big balls are a challenge, but Mike effortlessly swallows everything.
He postpones getting fucked so that he can have a go at eating Jimmy's arse, and Jimmy willingly sits on Mike's face, spreading his butt cheeks apart and grinding down on Mike's probing tongue. When Jimmy finally sinks his cock into Mike's hungry arse the guys are dripping in sweat… and soon they're both covered in spunk too!
• Available in all good adult DVD shops and online at www.SimplyGayDVD.com.