Monster cocks are busting out again in a super-charged fuck-fest where Raging Stallion's Nasty Fuckers get down and dirty! If you like your porn to be full of rough play – taken and given by big-cocked studs who like their sex on the hard side – then you'll love watching these Nasty Fuckers in action. 
Scene one stars two studs we'd love to do the nasty with, Jay Roberts and Parker Perry. Parker's on his knees and opens his mouth wide to take Jay's uncut tool, sucking it down deep and chewing on the fleshy foreskin, before Jay throws him down and fucks him fast and furious like a well-oiled machine.
Sexy Brits Ben Brown and Bruno Knight are up next and Ben is Bruno's willing victim, teased by his dominant buddy and getting so horny that he can't wait to get Bruno's thick cock in his mouth and in his arse. It's not long before Ben's on his knees so Bruno can eat out his arse to get it wet and lubed up, ready for him to fuck deep and hard!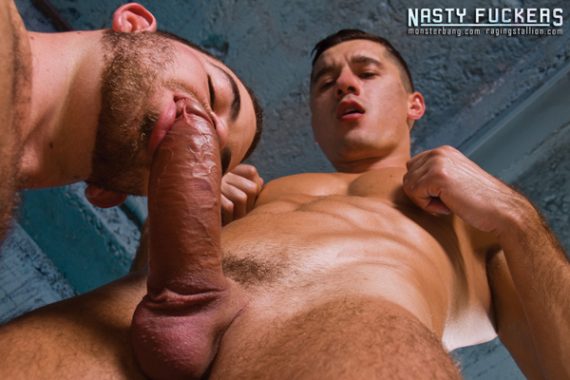 We don't know which guy we envied more as we watched Angelo Marconi and Alexander Garrett… Was it the sight of Angelo getting fucked by Alexander's humungous slab of meat? Or was it when we watched Alexander screwing Angelo's beautiful butt? Whichever it was – and maybe it was just a combination of the two sexy fuckers – we shot bucket loads when Alexander takes charge, holding Angelo in position by grabbing onto his neck and wrists, and ramming himself in hard and fast!
Bruno Knight's back in scene four, this time with Jason Michaels, who he claims as his new fuck-toy! Jason is eager to go along for the ride with his 'hairy English dad' and goes down to devour all of Bruno's massive meat like a good lad.
Bruno's in charge as he calls the shots making sure Jason's doing the job right. Jason plays along, but also takes some control of his own by smothering Bruno's face with his arse, making the big guy eat it out. It's not long before Jason is face down with Bruno slamming his arse aggressively, with Jason loving every minute of it!
• Available in all good adult DVD shops and online at www.SimplyGayDVD.com