Get ready for another sweaty, non-stop free-for-all from the Hard Friction Studio! Directed by Steve Cruz and Bruno Bond, the eight hot guys chosen for this DVD won't stop until they get their fill, and even then it's 'never enough'! 
Tomas Brand and Logan Rogue are up first and Logan's down on his knees licking his way along the length of Tomas' perfectly chiselled torso until he reaches his throbbing uncut cock.
Logan takes a deep breath and then goes down on Tomas' monster meat before pulling his buddy's perfect arse cheeks open and rimming his tight pink hole.
Tomas returns the favour and spreads Logan's legs wide apart exposing his hole, which is hungry for cock! Logan takes every inch of Tomas' massive cock like a man, begging for more. It's not long before both men blow their loads – first Logan, then Tomas, and Logan (the dirty boy) laps up the hot juice like a greedy dog!
We can't get enough of muscled stud Jimmy Durano, and paired with sexy newcomer, James Ryder, these two make a HOT combination! As he goes down on Jimmy's meaty curved cock you can see in James' eyes that what he really wants is to feel it deep in his arse.
He doesn't have to wait long though and Jimmy's soon lying on his back so James can climb up and ride his cock, plunging his arse down hard so that he can feel every inch of Jimmy's hefty tool.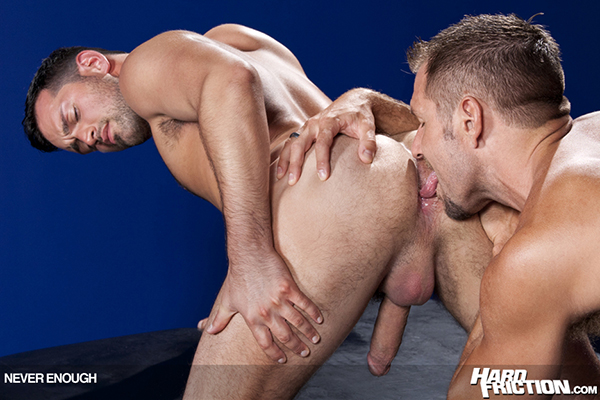 Rich Kelly's paired with Andrew Justice in his very first scene, and he's in good hands as Andrew's a true pro. He loosens up Rich's hairy hole with his tongue, preparing it for his big, curved cock, and Rich lies back with his legs in the air, giving Andrew the perfect angle to pound him deep and hard.
Muscle bound Trenton Ducati and young jock Randy Dixon bring up the rear, and Trenton wastes no time in pushing Randy's face down on his rock hard cock.
Trenton's definitely the man in charge and barks his orders at Randy before pounding his arse jackhammer-style. In the final moments, as Trenton pulls out and blasts Randy's hole with a gush of hot white spunk, his boy looks up and says, "That's a big fucking load!" Well, what did he expect? It did come from a big fucking dick!
• Available in all good adult DVD shops and online at www.SimplyGayDVD.com