Benjamin Godfre is a high profile swimwear and underwear model in the States who's been working the camera since the late '90s.
However, the six foot tall surfer and skateboarder has decided to take his career to another level and, after collaborating with Falcon and Raging Stallion Studios, has not just starred in, but also directed Oh My Godfre, one of the horniest solo jerk-off movies we've seen for a long time!
This DVD is not just Benjamin's directing debut; it's his first time getting naked with another man (in public we suspect) and in scene one, called Naked Skateboarding, we find Benjamin riding his beloved skateboard completely nude, except for his trainers, through the Castro District of San Francisco.
He darts down an alley, sets his board to one side and begins grinding himself up against the wall, giving us a perfect view of his tight buns. When Benjamin turns around, he's rock hard and he lies down, spreading his legs, and as he strokes his cock and teases his hole, a long vein pops out along his bicep as he lets loose a gasp and a stream of spunk.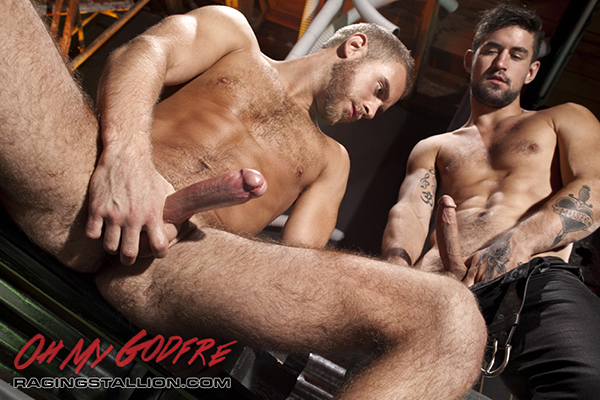 Next Benjamin meets up with Britain's most successful Cockney export since Only Fools And Horses, Paddy O'Brian, and recruits him for an outdoor solo jerk-off.
The Californian lifestyle obviously suits Paddy and when we see him on a wide veranda overlooking a vineyard he's looking hotter than ever. Benjamin gives Paddy a brief pep talk about jacking off in front of the camera before he calls "Action!" and Paddy wanks until his spunk streams out onto the deck.
Next there's another of Benjamin's sessions, which begins with a documentary-style photo shoot in skimpy swim trunks with top Raging Stallion photographer Kent Taylor and ends with him knocking a second load out for the camera.
The best, as they say, is saved 'til last when horned-up director, Benjamin decides to strip and join sexy 25-year-old new cummer Shawn Wolfe for a dual jerk-off scene. Oh My Godfre ends with one of the hottest cum facials we've seen for a long time when Benjamin hooks his arm around Shawn's neck like a wrestler and spurts his load straight into his mouth… He shoots, he scores!
• Available in all good adult DVD shops and online at www.SimplyGayDVD.com.