If you get bored watching two solitary guys having sex and would much rather watch at least six guys getting it on, all together and in the same room, then this DVD is for you.
First up is an amazing orgy from Mirage, Raging Stallion's 2007, 2-disc, six hour blockbuster set in ancient Egypt! A rabble of dark and swarthy Arabian men indulge in a  massive 8-man orgy which, it's said, has no less than 25 cum shots! We didn't have time to count them but we can tell you who's in it – Steve Cruz, Marc LaSalle, Rambo, Max Schutler, Dominic Pacifico, Tommy Blade, Justin Christopher and Huessein.
The next orgy scene is Frat Boys and is taken from Falcon Studios' Out Of Athens Part 1 released in 2000, and stars Cameron Fox, Hans Ebson, Jeremy Tucker, Jeremy Jordan, Emilio Santos, Tristan Paris, Billy Kincaid, Seth Adkins and Nick Young.
The action takes place in the garden of a frat house where young Latino Hans is forced to strip and then get fucked by Cameron in front of his college pals! Turned on, everybody loses control and a hot 9-man orgy ensues under the blazing Californian sun.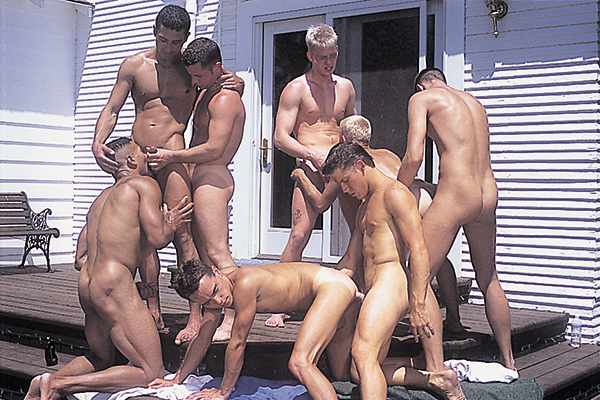 The next orgy entitled Dungeon is taken from Mustang's 2002 fuck-fest Aftershock Part 2 and stars ten – yes ten – leather-clad hunks, including a baby-faced Matthew Rush and gay porn icon Chad Hunt and that enormous eleven incher of his! This sweaty, hardcore orgy is a sea of muscles and leather and takes place within the four chambers of an amazing construction called a glory box!
Raging Stallion Studios released GayDreams 2: San Francisco Nights in 2004 and the film's 6-man gangbang was one of the year's porn high points!
Chosen as the final orgy scene of this compilation DVD, it's an interracial gangbang that takes place at a fashionable art gallery exhibition.  Starring Robert Marx, Abram Rodriguez, Ryven, Brendan Austin, Andy Dill and Sean Storm, the ball-busting finale sees Sean lying on a large marble box with the other five guys all around him, their ten hands and five cocks helping him to achieve the orgasm of his life!
• Available from Prowler, Expectations, White Tiger and all good DVD stockists.