Those insatiable guys at Butch Dixon prove once and for all that they're obsessed with cock! So much so, they enlisted somewhere in the region of twenty-four hot porn stars (we lost count!) to star in the spunk-soaked DVD Orgy Mania. There's an eleven-man and an eight-man bukkake scene, a six-man orgy and what must be Johnny Hazzard's most athletic three-way ever! You certainly get more cock for your pound with Butch Dixon!
Scene one features a greedy sub on his knees sucking the cocks of a group of hot muscle guys who are gathered around him. Each one grabs at his head forcing him to deep throat their cock until one-by-one they shoot their thick creamy loads over his face and chest.
Scene two's a bizarre bag… but fucking horny all the same. It starts with a hot Glaswegian Santa Claus (John Connery) who's got a fat cock, and he's face-fucking one of his little helpers (Alec Hill) in a public toilet! Soon Santa's stripped off his outfit and after forcing his elf to do the same, the de-robed Santa fucks his hairy little arse.
It's hard to put across just how horny this scene actually is, but this is one Santa Claus whose knee we'd happily sit on! We're back to familiar porn territory next with a prison scene starring Aitor Crash, Johnny Hazzard and Gio Cruz.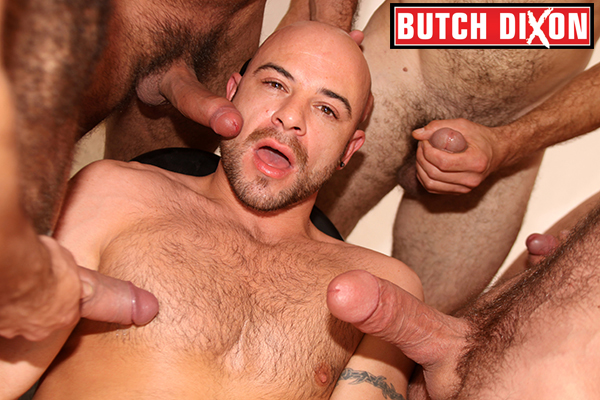 Hazzard is the prison bitch and his arse belongs to Aitor tonight. He puts on a show for Cruz, spanking Hazzard's arse hard before opening up his hole with his tongue and fingers and fucking him all over the prison cell.
Once all three jail birds have cum we catch up with our hot Glaswegian Santa Claus again, who this time is on the receiving end and getting his furry arse shafted. An innocent looking three-some (did I just say that?) soon turns into a six-man fuck-fest, but by now we're ready for anything that Butch Dixon throws at us.
Lucky we said that, as the final scene of Orgy Mania is the eleven-man bukkake scene with horny fucker Ben Statham on his knees in the thick of it, getting his sexy face drenched in cum at the end!
• Available from Prowler, Expectations, White Tiger and all good DVD stockists, and online at www.ProwlerDVD.com.