So, what really goes on behind the doors of those workshops on trading estates that we see burly men disappear into? One might assume that it's all work and no play, just manual labour and page three calendar girls on the walls.
Well, things couldn't be more different in the workshop belonging to Alphamalemedia, where monster-cocked masculine men while away the hours by working each other's arses hard and fast, before blasting thick, heavy loads across broad, muscled chests and rock hard abs… Hey, did we expect anything else!
Workshop boss and all-American stud, Lucas Knowles is considering selling his business, but he's in two minds because of all the fun he has on the premises. And we soon find out what he means when Ludovic Canot, the printer repair man, arrives.
Lucas makes it clear that it's not just his toner cartridges he wants Ludovic to give the once over, and the ever-growing bulge in Lucas's jeans shows that he means business.
The two guys strip and Ludovic sucks on Lucas's massive hard cock before he's bent over for a good hard pounding from the workshop boss. Lucas is a great top and flips Ludovic onto his back and plunges his cock in even deeper and both guys shoot their loads.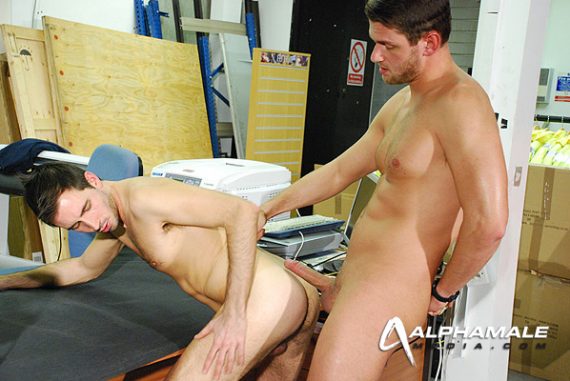 Next, two burly delivery guys, Marius Mugler and Tiko, turn up at the workshop, but finding the premises empty decide to steal some clothes. They take off their shirts to try on some of their stolen booty to reveal bronzed, tattooed muscular chests and guys being guys they just can't keep their hands off each other.
Before long they're sucking on each other's cocks before Tiko ploughs Marius's muscled butt. Hot American Shane Frost is the photographer taking pics of model Zack Elias and he needs to rub a little oil in to Zack's body – for professional purposes, of course.
This gets Zack hard and Shane can't help sucking on Zack's massive cock, an act that leads to him being bent over and feeling the full force of Jack's thick cock up his oh-so cute arse.
Zack fucks like a steam train and we're pretty sure that the moans and groans coming from Shane aren't acting and he soon shoots his load on his chest while Zack blows his wad into Shane's mouth.
Lucas is back for the final scene and gets sexy Brit Nathan Price to try on a jockstrap to check the fit (that old chestnut!) and this ends up with Nathan up against the wall with his arse getting pounded by Lucas.
They're soon on the floor of the workshop with Nathan on all fours getting it good from Lucas before flipping onto his back for Lucas to use his hole leading to both guys shooting their loads… Needless to say, Lucas decides not to sell the workshop as he has so much fun there.
Now, if only we could find the address!
---
Available to buy at www.eurocreme.com or watch high quality streaming at www.eurocreme.tv
---