Lucas Entertainment exclusive Ben Andrews stars in the sex comedy The Intern, where Botox-injecting bosses (Michael Lucas) stars alongside sassy assistant Christian Cruz and beefy delivery man Matt Cole.
Hot House Video serves up another dungeon gangbang fantasy with Pack Attack 5: Shane Frost. Shane's the caged puppy in need of obedience training, and he takes on five leather-clad power-tops who teach him how to take it up the arse and down the throat. With all these hot, hung top guys there's enough cock and muscle here to tame a whole kennel of pups!
The men stand around jacking off, teasing Shane Frost, who pounds on the bars of his cage; he wants to be in the middle of the pack, sucking dick. Spencer Reed drags the horny pup (complete with a dog-tail butt plug!) out of his cage and the men shove their hard cocks down his throat. Like a good doggy Shane works his way around the circle of meat, slobbering as he swallows every cock to the base.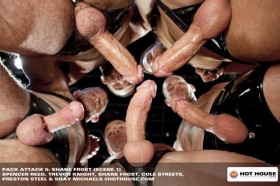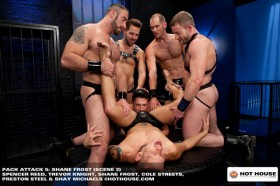 Shane's appetite for cock is insatiable and in a virtual feeding-frenzy, he greedily sucks two dicks at a time while the pack smacks his rosy arse cheeks, preparing him for what lies ahead. Trevor Knight is the first top to shoot his load all over Shane, and following his lead all of the men stroke their hard cocks and shoot, soaking Shane in puddles of thick cum… and it's only the end of Scene 2. This Pack is out of control!
Next Spencer Reed makes a power-play by locking the other guys in a cage so he can play with puppy Shane all by himself. He chains the pup and parades him in front of the captive pack, but once he releases the rest of the guys, the sex-crazed leather men throw Shane in a sling and take turns burying their dicks in his arse and plugging his mouth. And as they say, 'every hole's a goal'.
The rowdy cock sucking and arse fucking soon brings all of the top men to the edge and they surround Shane and jerk their hot loads all over his back while he barks like a happy puppy. If you have a gangbang fantasy, you must get this DVD! You'll wish you were the puppy who's the centre of attention of all these hot leather-clad top guys.
• Available from Prowler, Expectations, White Tiger and all good DVD stockists.