Rudeboiz director Simon Booth sets up four scenes in which straight-acting city boys strip off each other's smart suits and fuck each other's brains out. Everybody stays hard throughout and not a word is spoken. There's plenty of groaning though. And when you see the size of some of the cocks, you'll know why!
There's a wide variety of blokes in The Power House. But they're all manly men, the sort you might expect to see on the trading floor or in the wine bar.The first is exotic, shaven-headed Zack Elias, who gets it on with Justin Harris, who has a swimmer's build and a fine profile. He can handle Elias' fat tool in his mouth and up his arse; and when he's sitting astride it, he spurts a gusher, which goes all over both of them! Then Elias milks out a creamy one on Harris' chest.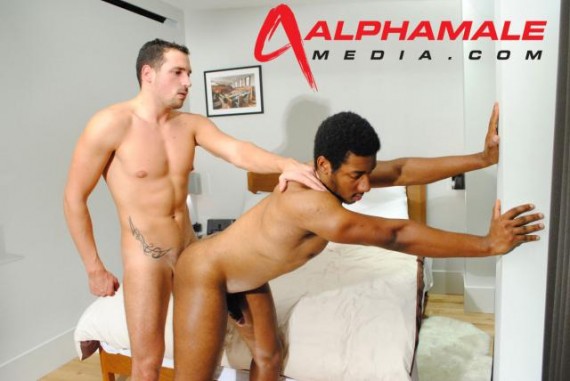 Stocky Rocky undresses chiselled Neil Stevens, the star of House Boy and other Booth movies, and pulls out his massive wang. Rocky cums while he's being ploughed from behind, then Stevens cums over Rocky's face. Manu Perronash and Jack Jefferson are discovered in the kitchen.
Perronash has a nipple ring and his name tattooed on his arm. He sucks Jefferson, a head boy type with smooth skin, and then Jefferson returns the favour. Perronash bends for a pounding and sprays a shower of cum that narrowly misses the lens. Then Jefferson wanks out a big load while his nipple is sucked.
The hottest scene is the last. New black model Leo Cage has a monster cock with the unique distinction of vitiligo on the end of his foreskin. Could this become a new fetish? His partner, cool white Enzo Rimenez, can swallow the whole of Cage's trouser snake and take it up his bum too. But then – surprise! – Cage bends over to get fucked by Rimenez. The scene ends with splurges of jism.
---
Available to buy at www.eurocreme.com or watch high quality streaming at www.eurocreme.tv
---