Billed as 'porn completely reinvented and new', Reality Sex sees a bunch of horny lads locked up for a week in Cazzo's Berlin apartment.
They're all young and up for it and they're all looking to have a good time! Expect sex from early morning 'til late into the night and the camera is always there. Documentary-style shots go behind the sex scenes and also gives you the chance to see the guys up close and personal.
We're introduced to the guys as they each arrive at the apartment and straight away big-cocked Brit Darian, Christophe and Max get to know each other a little better, naked on the couch.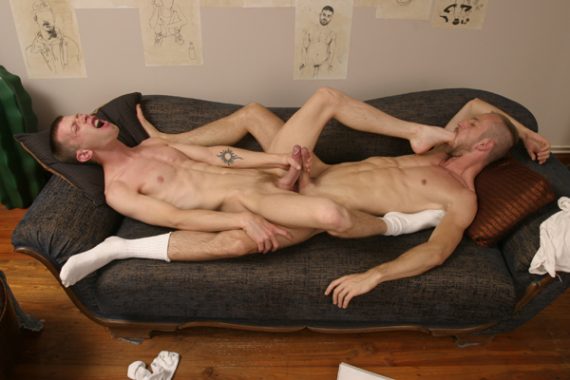 Sexy skin Max takes both Daran's huge stiff cock and Christophe's before he's bent over the couch so that the guys can get to work on his butt wit their fingers and tongues. No script here, just three guys, obviously very horny and definitely very into each other.
What follows is a horny spit-roast fuck with sexy tattooed Chistophe fucking Max's face while Darian plunges his huge cock into Max's willing butt.
Get the tissues out for this scene… Blond Brit, Ben Taylor, shows us what a big cock he's got in a ball-busting scene paired with sexy shaved headed Skar. You know Skar wants it when he's on all fours sucking on Ben's growing piece of meat and fingering his hole.
And he doesn't have to wait long to feel Ben's massive cock pounding him as soon Christophe gets every inch, driving back on it like a pro.
Another hot scene with great close-up fuck action from two hot guys ending with Christophe on his back being shafted by Ben and getting two big loads on his muscled chest…
The guys in Cazzo's 'reality house' sure know how to have fun and through ten hot scenes of spontaneous blowjobs, guys exploring foot fetish, three-ways and group orgy scenes, one that was a real eye-opener was the introduction of a fucking machine.
• Reality Sex is available to buy or watch high quality streaming at www.QXMEN.tv