Many of you will recognise Reece Bentley as the cocky young tear-away who cruises around the streets in the back of a people carrier looking for innocent victims to use and abuse with his mates. What many of you won't know is that Reece has played the little sub slut on many occasions and loves being used and abused and pushed to his limits with bondage, restraints, hot wax, dildos and CBT! You'll squirm as you watch him getting tied up and tortured. However, it would seem that nothing's too severe for this horny fucking sub slut! 
Scene one and it's straight down to business when we find Reece tied back to back – or rather arse cheek to arse cheek – to his young but impressively hung mate Aiden Jason. It looks like they're the new playthings of sadistic Adam Watson, who's taking great pleasure spanking their quivering butt cheeks.
Forcing them both to bend over, Adam lubes up his fingers and slides them deep into Reece and Aiden's scared and tightly clenched holes. Next up, Reece is restrained and hanging while nasty Dan Jenkins drips hot wax into his body before forcing him to suck his cock and then shooting his loads over Reece's face.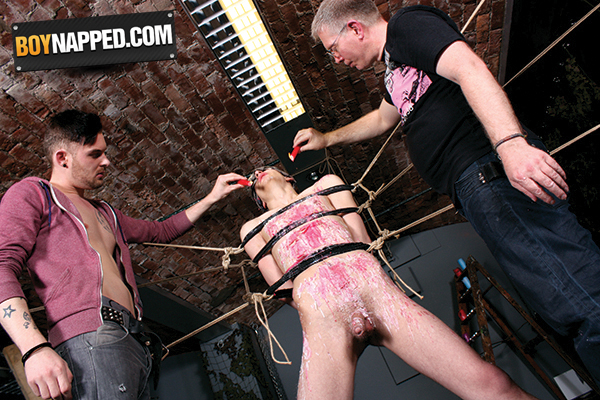 Adam Watson's back to terrorise Reece in scene three and he has Reece restrained under an elaborate bondage set up. Rather than abuse him though, Adam decides to take full advantage of Reece's erect cock and rides him like a bucking bronco at the fairground. The master of all sexual sadists, Sebastian Kane has Reece strapped down next and is using baby oil to edge his cock.
Reece blows his load after what appears to be a very enjoyable slippery hand job, but then true to form Sebastian turns nasty and slavers a load of menthol cream over Reece's bell end, which having only just cum is hyper-sensitive!
The final scene sees Reece taking yet more hot wax torture from both Sebastian and Adam, but although he lets out the odd whimper, he doesn't seem to be that bothered with his ordeal… Can nothing break this boy!
Available from Prowler, Expectations, White Tiger and all good DVD stockists, and at www.ProwlerDVD.com.