Falcon Studios serve up a fantastic slice of smokin' hot, sun-drenched action, complete with a bevy of beautiful boys and buff men. We think we could all do with a little escape to the country…
Time to get away from the hustle and bustle of city life at a country retreat, featuring plenty of hot men and lots of R&R… Ramming and rimming that is!
Scene one sees Will Helm and Roman Heart completely forget about their breakfast spread. These horny hunks would rather start the day by nibbling on each other's well-sculpted torsos and chowing down on thick, uncut cock than bother with the croissants. Will takes total control by munching on Roman's arse then stuffing his willing hole.
Legs akimbo, Roman is soon begging for Will's fast and furious thrusting in this hot opener, resulting in a double explosion of hot 'n' sticky cum. Scene two sees Jesse lounging on the deck,stroking his thick slab of meat.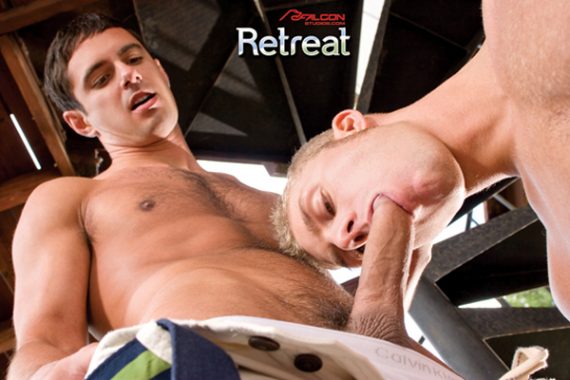 Watching, Trent Locke soon crawls between Jesse's legs and takes over, holding Jesse's big pole at the base as he chows down. Jesse returns the favour by grabbing his furry arse, spanking and finger-fucking his delicious booty before throwing him down on the bed and screwing him like there's no tomorrow.
Scene three and Andrew Jakk takes Donny Wright's uncut cock like a pro. Donny sets his sights on Andrew's arse, diving face first into the inviting mound before indulging in a fucking frenzy on a spiral staircase.
After an exhausting day, scene four sees Will hooking up with Landon Conrad. Grabbing each other's ever-growing packages inside bulging briefs, Landon throws Will down on to the bed and runs his tongue across his toned chest, down across his six-pack before finally getting his mouth around Will's rock hard, throbbing piece.
But then it's Will's turn to take charge, flipping Landon over, teasing his hole and fucking it furiously in a number of positions, resulting in two very satisfying loads… We think we're going to book ourselves a little getaway right now!
• Available from Prowler, Expectations, White Tiger and all good DVD stockists