We've all heard about sex in the back of a car – but these biker-boys are going one stage further, as they push their machines (not to mention their arses!) to the limit as they strive for the ultimate sexual thrill! Cover-boy Mickey Taylor sets the wheels in motion, accompanied by pillion-passengers Will Sims, Tristan Wood and the ultimate dick-magnet, Billy Rubens. So get set for the ride of your life, as the hottest twinks on two wheels go for it hell for leather in Revved Up!
---
Paul Ryan and Jaye Elektra are up first and as they check out a trials bike it becomes obvious that these two twinks are a couple of bike obsessed junkies as the bike turns them on so much that they turn on each other. Down come their jeans and soon the lads are sucking on each other's rock hard cocks. They decide to leave the garage and head up to the comfort of the bedroom and it's only when both lads are naked that you notice just how big Paul's knob is! Jaye's a consummate professional though and ride it like a good 'un until Paul spews his load in his face.
Paul's back in scene two, this time with his buddy Tristan Wood and mechanic Billy Rubens. Billy's wearing sexy mechanic's overalls and is on all fours tinkering with a motorbike and the sight of the sexy little grease monkey gets too much for Paul and Tristen and they start making out in the hope that Billy will join in. He does, and what follows is a horny three-way session with Tristan being the filling in the sandwich, getting spit-roasted by Billy and Paul.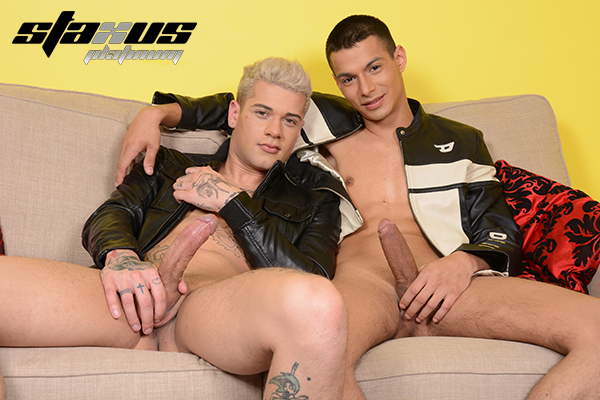 Will Sims and Mickey Taylor are up next and Mickey shows us what a good top he can be when he fucks Will's cute little boy butt good and hard. True to form though, soon enough he's pulled out of Will, got his cock hard and hops on to pleasure his arse.
The gorgeous Billy Rubens is back for the final scene and, just in from riding his bike, he jumps on the bed and tells his mate cute blondie Jacob Daniels how much he loves riding his bike and, rubbing his packet, how horny it makes him. What red-blooded male could resist a come-on like that and soon Billy and Jacob are butt naked and rolling around on the bed.
Billy wasn't joking when he said the riding his bike makes him horny as he fucks young Jacob in numerous positions before shooting a massive load in his face!
• Available on DVD from www.homoactive.com and as VOD stream and a download at www.homoactive.tv.