Trojan Rock and his sexy team of tool men can fix any desire and work tirelessly to make sure their clients are given the best service they could ever imagine. Everyone is left satisfied, smiling and covered in wads of thick white spunk!Scene One, and beefy, muscle god Samuel Colt is in town for a week and needs a hard gym workout to get him feeling pumped. Trojan suggest the gym back at his office and when Samuel arrives, sexy hung Latino stud Lucio Saints is already there.
In a matter of seconds the guys are working out… on each other's armpits and dicks, and when Samuel lays back on the bench, Lucio takes the opportunity to throat-fuck him with his humongous cock. It's the perfect position to get the entire length of his cock right down Samuel's throat and Lucio enjoys making Samuel gag and choke on it.
And it's not long before Lucio gets Samuel on his knees and starts opening up his hole with his fingers and tongue before fucking the muscled hunk good and proper! Next up, hairy young fucker Justin King is back in business and he's catching up with Trojan at the office when Latino stud Gio comes back from a job.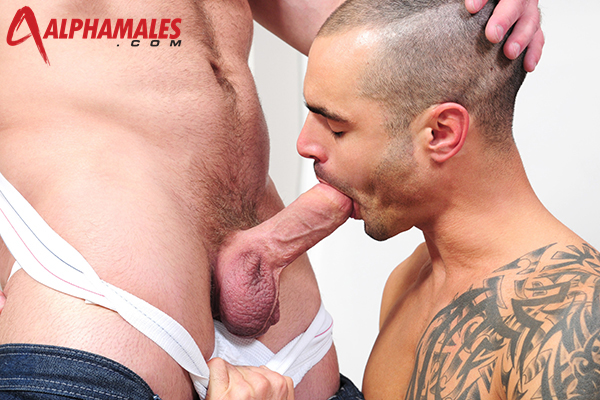 Trojan heads off leaving the two working boys together, knowing exactly what will happen! And true to form, the boys are soon naked and Justin, keen to show his credentials, bends over the sofa and takes every inch of Gio's thick dark meat, ensuring Gio gets exactly what he wants from the new recruit!
On his last night in town, Samuel's treated to a sexy surprise by his good friend Trojan, and when he arrives back at his hotel he finds sexy stud Issac Jones lying on his bed in just his underwear.
We get the impression Samuel likes his surprise as he pushes the sexy tattooed Frenchman to the floor and forces him to suck his dick until it's dripping with spit! They move onto the bed where Samuel, like a man possessed, mercilessly pounds Issac's furry arse, leaving them both covered in spunk.
In the final scene, bearded hunk Yohann Banks can't wait to put sexy new recruit Ken Ten through his paces, and as he's heard that the 'Ten' in his name refers to the size of his dick, he's keen to find out if that's centimetres or inches!
To Yohann's delight he discovers that Ken's 'ten' is an imperial measurement and so wastes no time getting all ten of those inches in his meaty arse!
• Available to buy at www.eurocremestore.com or watch high quality streaming at www.eurocreme.com.