Getting close to nature certainly inspired the sexy campers in Falcon Studios' Roughin' It 2 to commit some animalistic acts in the great outdoors for the whole world to see.

They're roughing it and their primal sexual nature rises to the surface. Pitch your tent and check out what these guys get up to when they think nobody else is watching.
Scene one and Trent Locke is chasing Donny Wright through the forest. Once he's caught him, Trent pulls down Donny's shorts and gets on his knees to blow the hot stud's uncut cock.
Once Donny's returned the favour, Trent braces himself against a tree so he can take the full force of Donny's huge tree trunk.
Grabbing onto Trent's shoulders, Donny rams him harder, which makes huge wads of cum spurt out of Trent. Not to be outdone, Donny pulls out and coats Trent's beard with his load!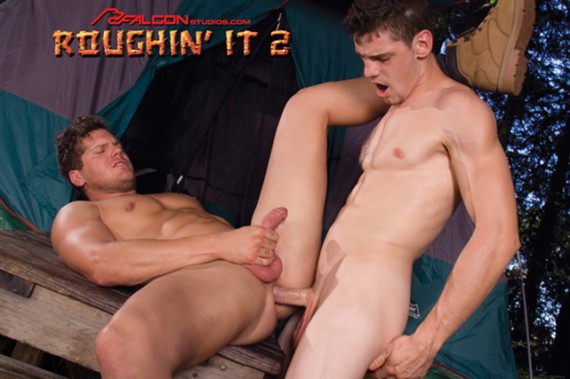 As the sun rises over Andrew Jakk and Roman Heart's tent, Andrew wakes to find Roman hard as a rock. He decides to wake his mate with a morning blowjob, and swallows Roman's throbbing cock to the base.
This wakes Roman and he returns the favour. But Andrew would rather have Roman working on his arse and so he straddles him so that Roman can work his hole while he spends more time on Roman's meat.
Soon they take their wake-up sex outside and make out in the morning sun.
Parker London and Casey Monroe are up next Parker bends over their tent allowing Casey direct entry into his round, plump arse. Parker takes it like a man and moans and groans with appreciation.
In the final scorching hot scene D.O. shows us, once again, just what he does best – fuck ass. And it's muscle-bound Erik Rhodes who gets his meaty round butt pulverised by D.O.'s immense cock!
Watching the big guy hold on tight to the roll bar of their jeep as D.O. screws his ass was all it took to make us blow our load!
• Available from Prowler, Expectations, White Tiger and all good DVD stockists.