The next installment of Rudeboiz is here and it's packed full of filthy trainer-wearing scallies. These South London sluts are having the nastiest, dirtiest sex the council estates have ever seen, pulling their fat, dripping cocks out at every opportunity. And with so many hot young lads about, who can blame them?
The action takes place on some rough as fuck council estate and begins with Fraser Jacs pacing the room waiting for his mate to turn up. The scally in question is sexy as fuck Thierry Schaffauser, the sort of baseball cap wearing, tracksuit clad chav we all dream of fucking.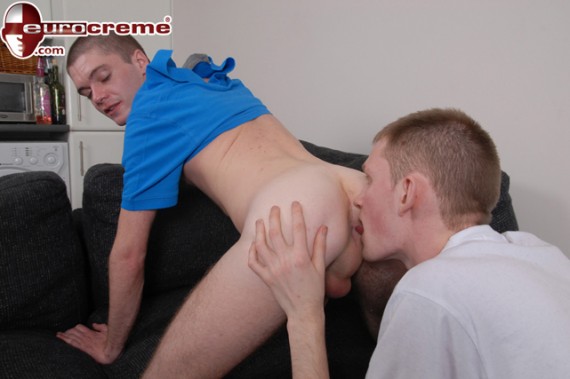 It turns out he owes Fraser some money but after counting the wad of twenties and fifties Fraser finds it's short. Not happy with Thierry's excuses Fraser grabs him, pulls him forward and kisses him passionately before pushing his down to suck his cock. Thierry returns the favour then the lads strip naked and 69 on the bed. The guys then rim each other before Fraser fucks Thierry hard doggy-style and then on his back until both blokes shoot thick creamy loads.
Chav lads Kez Lyle and Scott Brown are walking through an estate, chatting about getting high when they find a set of keys. Being a couple of scally sex offenders they decide to break to see what they can nick and sell on. Once inside they help themselves to bottles of booze, a laptop and cash and then, to add insult to injury, the little bastards wank over the sofa while the other goes to shit in the bed!
Back on the sofa they suck each other off before Kez rims Scott hairless hole, fucks him doggy-style and then Scott rides it in a reverse cowboy position. Fraser's back next and he's got the aptly named skinhead lad Joy Rider tied to a bed with flex. It turns out that Joy shot his dog and Fraser's going to make him pay, starting by making Joy suck his cock. Fraser then rims and fingers Joy's tight hole while the young lad gags on his cock.
Next Fraser fucks him hard doggy style and then on his back before pulling out, ripping the condom off and spunking over Joy's cock and balls. Fraser's up for a hot three-way next with his mate Milan and they decide to pop over to sexy scally lad David O'Connor's for a quickie. After some sucking and rimming Milan fucks David's boyish hole while Fraser fucks his face and then David and Fraser do the same to Milan who gets fucked good and hard by Fraser too… The fuckin' sexy Rudeboiz; we don't know whether to fuck them or give them an ASBO!
---
Available to buy at eurocreme.com or watch high quality streaming at eurocreme.tv
---