Those graffiti-spraying Rudeboiz have been Caught on Camera and getting up to no good. As they prowl the streets they film themselves showing off their tight bodies to each other, daring themselves to strip down as they spray the walls while their bad boy dicks twitch and get rock solid! It's our guilty secret, but we can't get enough of Eurocreme's Rudeboiz.
Scene one, and two young scally lads peel off their hoodies and trackie bottoms, and snap their dicks on each other's phone cameras. Handsome pretty boy Lee has the hottest dick and big low hanging balls. He's got an appetite for arse, which is perfect for his mate Justteen, and on a skanky mattress, Lee fucks his mate good and hard.
In scene two Justteen is showing off his latest break-in to his mates Drew and Skylar.  Calling them over to chill, horse hung black dude Drew wops out his meaty dick and gets it serviced by both cute lads, who fight over it, wanting it rammed down their throats.  Blond boy Skylar is the focus of both lads' attention in this spit-roasting, arse-stretching fuckfest!
When Danny interrupts hung lad Luke's horny webcam session he had better make up for it. Both lads have massive dicks, Luke especially but Danny ain't far behind. Danny's arse is eaten first, and then it's Luke's horny little hole that's prepped for Danny's slab of meat.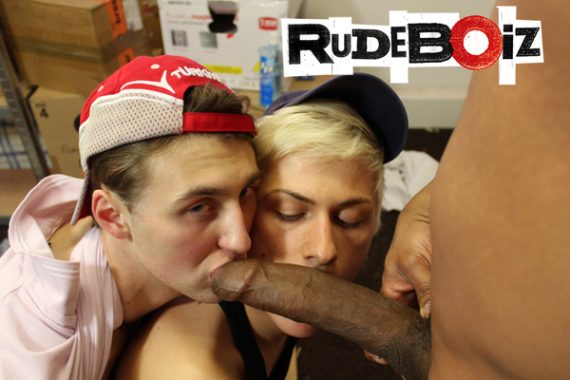 And boy, does that little arse of his get stretched open by Danny's immense throbbing shaft. Last but by no means least, handsome Jordan gets caught wanking by his flatmate, young lad Josh who, at first is a bit unsure what to do with the brashness of his mate, his dick still in hand and throbbing hard!
Getting to his knees is the only thing he can think to do, before Jordan bends over and shows off his smooth arse and sexy hole – a true vision from heaven! He's soon bouncing on Josh's cock and then lays back to take it all before getting an awesome facial from the rampant teenager… Those Rudeboiz. We love 'em!
• Available to buy at www.eurocreme.com or watch high quality streaming at www.Eurocreme.tv