Can you remember the first time you visited a gay sauna? 
Well now you can relive that experience with Euroboy's Sauna Virgins. Watch as these young lads try out their local sauna for the first time and end up with more than they bargained for!
They discover huge, throbbing cocks around every corner, and tight boy holes exposed in the steam room and sauna… There are certainly none of the fat old walruses we remember, fast asleep and snoring like thunder in the rest rooms.
And we definitely don't remember the staff at our local gay sauna being anywhere near as sexy as Deacon Hunter – or as hung come to think of it! But that's who horny young scamp Oscar Roberts is lucky enough to have pop his sauna cherry in scene one.
We say 'pop' his cherry, Deacon pretty much annihilates Oscar's sauna cherry when he fucks him to within an inch of his life in the changing room before hthe lad's even had a chance to try out any of the sauna's facilities.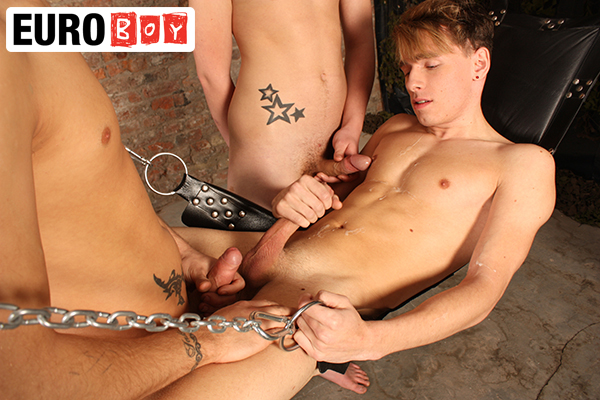 We meet Ethan Oliver and Rhys Casey next, two young Emo twinks next who've commandeered a rest room and are getting it on like two seasoned sauna-goers. Young Alex Silvers is innocently taking a shower in the next scene.
He doesn't realise how provocative he looks soaping himself up, and he's caught the eye of sexual predator Reece Bentley who joins Alex in the shower and forces the lad down onto his knees and starts to face fuck him.  But Reece has his sights set higher than just Alex's mouth and soon he's fucking the young pup's bulbous arse on the floor of the shower and up against the wall.
In the final scene horny Oscar Roberts has stumbled across the sauna's sling (every sauna has one if you look hard enough) and once he's made himself comfortable, Alex Silvers and Reece Bentley come in and put him through his paces…
If Oscar was expecting a relaxing Zen-like experience at his local sauna, he would've been sadly disappointed. As it was, we reckon he loved every minute of it and he'll be back just as soon as he can save up the entrance fee.
• Available online at www.ProwlerDVD.com, to stream from www.Prowler.TV and in store at Prowler, Expectations, White Tiger and all good DVD stockists.