Let's get the woggle jokes out of the way right now, as we head into the woods for some filthy shaggin' shenanigans. If we knew the boy scouts was this much fun we'd have joined up back when we were teenagers, rather than drinking Frost Jack's cider behind the bike sheds.
In seen one we meet two super cute, young twinks, a chirpy northern blonde and a baby-faced brunette. The lads soon get tired of hiking in their scout shorts and head into the tent for some hot BJ and 69 action.
Our baby-face brunette hero soon starts fucking the slightly geeky blonde – but honestly, we smell two versatile/power bottoms here, so it could've gone either way.
In scene two, a buzz cut cutie pins his pretty, shaggy-haired friend against the wall and indulges in some alfresco fucking and a hot double cum-shot, swiftly followed by scene three, where a sleeping indie boy is woken up by his horny blonde tent mate.
After some rampant cock sucking, our throbbing blonde pins down our rocker-looking wonder, spreads his tanned legs and has him whimpering for more with his energetic thrusting.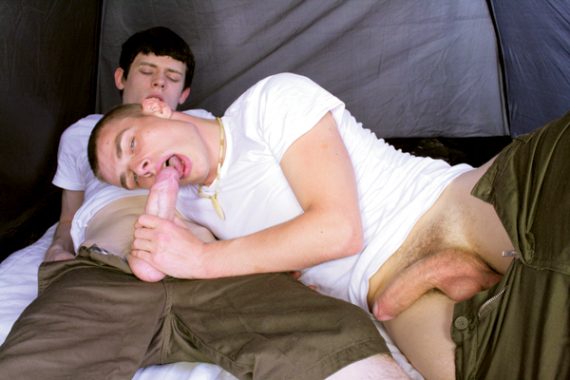 Scene four sees a shaven headed bad boy exclaim to a slumbering, gorgeous tent-dweller with an eyebrow piercing, "You know you want to".
It seems he certainly does and gets fucked like a scout bitch, with his monster piece of meat throbbing as he gets his back door bashed in by his slightly thuggish partner.
In the final scene, three gorgeous young scouts go rambling and soon sit down for some respite. But they manage to burn off even more calories whilst horizontal, starting with some frenetic sucking and rimming action, resulting in what must be our favourite scene.
A ridiculously pretty scout is rock hard as he gets pulsating cocks in each of his holes and a double dose of cum splashed across his slim, toned frame!
Boys, if they hand out activity badges for fucking, you've certainly earned them!
• Available from Prowler, Expectations, White Tiger and all good DVD stockists.