We've been going on about this movie for months now, and already Part 2 has been released. So here it is, full details of one of our favourite DVDs of 2012 so far, The action takes place in an abandoned Soviet-era prison camp called Sektor 9, where hard-hitting punishing leather tops teach the art of submission to their muscle-bound comrades in latex, gas masks, nylon ropes and animal cages.
Scene one, and Marc Dylan is cuffed and chained to a brick wall. He's wearing a jock and boots and about to be given submission training by Spencer Reed, a 6'2', 225 lb dominant top. Spencer eats the young stud's bubble butt and feeds him his fat cock.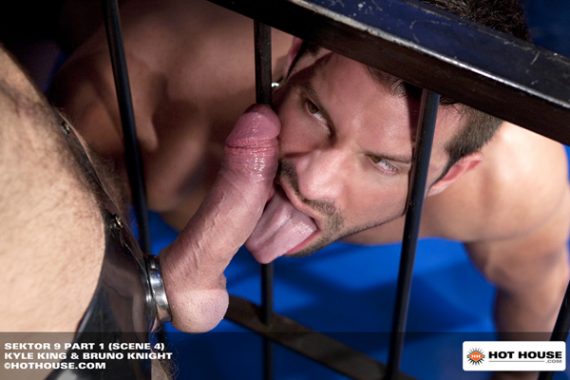 Soon Dylan is begging to be fucked and Spencer obliges, pounding his hole until he pulls out and shoots over Dylan's back. The sight of Morgan Black in restraints with his head in a cage, making him the ultimate cock-sucking machine, is hot! Even better when Jimmy Durano force-feeds him his thick Latin dick through the cage, barely allowing Morgan to breathe.
He's soon let out though and gets fucked hard by Jimmy before being dragged back to his restraints to wait for the next session. Jessie Colter's been strung up by the Sektor 9 rope master, and he's naked, suspended from the ceiling in a web of knots and ropes, and helpless to whatever lies ahead. Cavin Knight then walks in and strokes Jessie's growing hard on as he works open his hole.
Cavin manoeuvres the ropes and Jessie ends up with his feet on the floor and his arse in the air. It's perfect for Cavin to power-fuck Jessie's hot arse and as he does so, Jessie shoots his load without even touching himself! Kyle King is a wild pup that needs taming, and his Training Master, Bruno Knight, locks him in a cage and taunts him by slapping him with his pendulous fat uncut cock.
Kyle wags his dog tail butt-plug, begging for a taste, so Bruno shoves his cock through the bars and fucks his mouth. Lead out on a chain, Kyle's hole soon gets stretched by Bruno's massive tool as he's fucked doggy-style, then flipped over and screwed until both hunks blow wads of spunk all over King's chiselled abs…
Now, if that's what hard labour is like in abandoned Soviet-era prison camps, then where do we sign up!
• Available from Prowler, Expectations, White Tiger and all good DVD stockists.