Admit it. How many times have you fantasized about having sex with a straight boy? Maybe it was the fit guy at school who you couldn't help sneaking a peek at in the showers after P.E.? Or that married guy at the office whose arse looks good enough to eat in his suit trousers? Sometimes you can walk past a building site and there can be about five straight lads who you'd gladly let take you up the 'Arris!
From award-winning director Mike Esser, comes Seducing Straight Boys, five true stories that have been taken from Internet forums and retold in graphic hardcore detail. Filmed in London the DVD stars one of the UK's sexiest porn star, Will Jamieson, and he's joined by eight hot European spunks!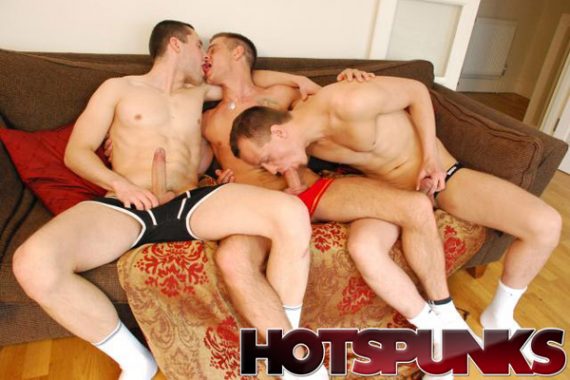 Scene one is a step-by-step guide on how to persuade your straight mate to let you suck him off. Whether it would actually work in real life is debateable, but watching the young guy persuade his horse hung mate, Harry Louis, is horny as hell.
And would you believe he gives Harry such a good blowjob that he gets fucked on the kitchen table too – lucky bugger! Next up, three fit young lads – one of them the dreamy Will Jamieson – are chatting about getting head off other guys, and all of a sudden, one of them has his trackies pulled down and has his two of his mates' huge cocks in his face!
A steamy threesome ensues and his buddies' stiff cocks are shoved in his tight hole and the lad get spit roasted and fucked in every position imaginable… Straight lads? My arse! Scene three and horny tattooed Jed James is lying on his bed watching straight porn, wanking his knob.
Meanwhile, sexy Brett Carter is in the shower, soaping up his gorgeous bum. It's not long before both lads are on the bed wanking their cocks and Brett gets it up the arse good and proper from his mate… Sexy Jed is back for the final tale of seducing straight boys and his offer of a massage to his hung straight mate has the outcome he'd planned.. his buddy's humungous knob bashing his back doors in over the massage table.
We never knew it was so easy to bag yourself a straight lad… QXMEN Warning: Don't try this at home!
• Seducing Straight Boys is available to buy or watch high quality streaming at www.QXMEN.tv