The second instalment of Sex City once again sees Kristen Bjorn and BelAmiOnline bring together eleven stunning East European and Latin studs for a mind-blowing fuck-fest of epic proportions!
Those stunning identical twins Milo and Elijah Peters are up first and their scene partner is gorgeous Christian Herzog.
Christian starts by sucking on both the twins' cocks on a staircase, managing to get both of them in his mouth at the same time, before the twins shoot their load over his face and then lick their spunk off. Christian cums too and they head into an apartment where Christian becomes the filling in a twin fuck sandwich.
The twins are so identical that we have no idea who's taking Christian's cock in his arse and who's fucking Christian's arse – but who cares! They're both hot as hell. Next the twins are sharing Christian's sweet hole with their tongues and fingers, and at times Christian gets six (yes six) fingers in his very accommodating hole!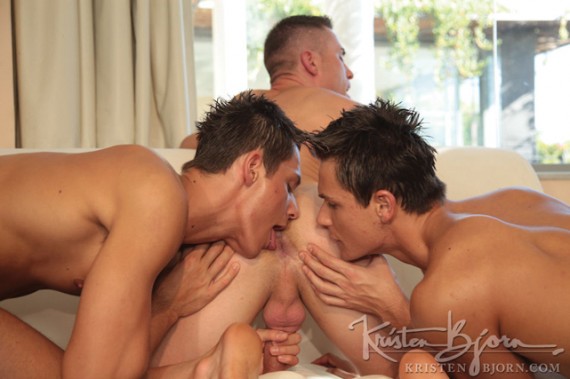 Then the three head into the bedroom where Christian gets double fucked. We couldn't help blow our load at this scorching hot first scene, but we soon got hard again when we copped a load of Lucio Saints and Nicolas Taxman getting it on in scene two. These two are hot and Nicolas takes it in the arse from Lucio.
Vadim Farell and Scott Carter are up next and don't be fooled by Vadim's angelic looks as he takes charge of Scott and hangs him from the ceiling, fucking the hell out of him with his enormous cock – outstanding!
Two explosive four-way fuck-fests come one after the other next, the first starring Brandon Manilow, Benjamin Bloom, Lucio Saints and Nicolas Taxman, and the next with Alex Orioli, Gael Goceva, Vadim Farell and Scott Carter.
Both scenes will leave you breathless and when Scott gets double fucked by Vadim and Alex we came bucket loads for the third time in this movie!
• Available from www.KristenBjorn.com