Feeling overworked, Trojan Rock's hunky Toolmen reckon they deserve a day off from the grind to enjoy the sleazier side of life. But they soon tire of playing board games and so those gorgeous workmen decide to do something less boring instead. What do they do? They strip out of their work gear and get down to some serious work on each other, that's what!
Scene one stars two sexy fuckers that look good enough to eat, Frenchman Issac Jones and Argentinean Valentin Alsina. Both Issac and Valentin are expert cock-suckers, but it's plain to see that Valentin loves eating arse too, and he can't help himself from working on his co-star's hole with his probing getting it wet and juicy. After having their fill of their oral first course, the two hot lads take turns to give each other a good, long hard fuck.
That gorgeous Hispanic stud, Jean Franko, gets it on with Ben who soon gets to work on Jean's muscled body with his tongue, its not long before they're both sucking on each other's fat shafts of meat.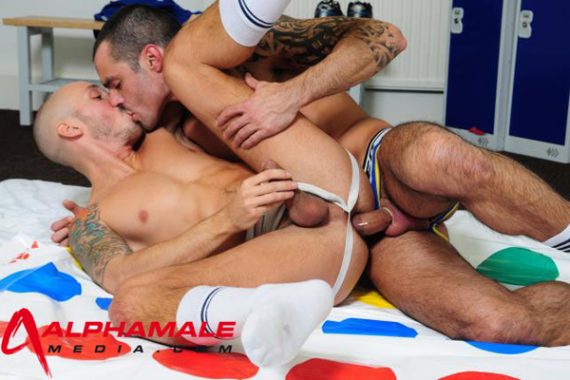 Jean Franko can't get enough of Ben's furry arse, and dives in and devours Ben's hole. He doesn't have to wait long for a pounding, and soon gets a hard and fast power-fuck before Jean Franko pulls out and squirts his load all over Ben's juicy hole…
It's muscled hunk Jason Torres and his strapping work buddy Dolan Wolf up next.
Dolan forces Jason's head down on his cock, only letting him up for air to spit in his mouth,  keeping him wet and willing. They're a match made in pig heaven as Jason's a total muscle bottom in this scene and after a marathon 69-er arse eating session, Jason offers his hole for a good fucking.
And he doesn't have to ask twice as Dolan rams his bubble butt in a range of positions, each one guaranteed to get his cock deep inside Jason's arse! Issac's back in scene four and he's playing cards with sexy Gio Cruz. The overalls soon come off and the lads' cocks spring into action. Following a marathon oral session, the spunk starts spurting, coating Issac's torso.
We'd give our right arm to lick Issac's body all over, but now that it's covered in spunk, we want to even more!
• Available to buy at www.eurocreme.com or watch high quality streaming at www.Eurocreme.tv